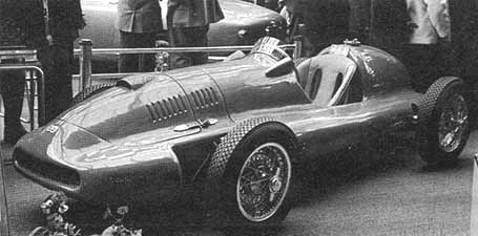 Was it the 750cc, supercharged DB-Panhard from 1955? The only front-wheel-drive Formula One car ever to have actually raced or the gloriously incompetent, W/12 engined, Life that kept us all amused and bemused throughout the 1990 season.

One might consider the long forgotten Shannon-Emery which ground it's exhausts along the track all around it's only lap of it's only Grand Prix, in the hands of former Team Lotus driver, Trevor Taylor, at Brands Hatch back in 1966.

Or maybe the Maki F102 of 1976? The only car ever to have been disqualified from a Grand Prix because the other teams thought it was so dangerously built they didn't want to share the track with it!

We could, of course, very easily go on however.....
We would like to nominate for this award, Italian constructor Dydo Monguzzi. And his mind-blowingly dismal, Dywa marque. Not just because Dydo's cars were necessarily any worse than some of the others, although they probably were, but also because he made the effort to create a whole dynasty of them. Every last one of which, was rammed tight full of dread!
The first Dywa was a Formula 5000 car. Which appeared with much trumpeting in 1975. The virtually unknown Luigi Cevasco (whom we seem to remember as having a rather wonderful nose!) was nominated to drive, and the car was entered for several of that season's British F5000 Championship events.
To be honest, it didn't look TOO bad. Especially for a car of that "imaginative" era. But it never turned up to race at any of the nominated events. Or anywhere else for that matter. Which leads us to suspect that it'd almost certainly proved to be useless.
But, Dydo Monguzzi had yet to get into his stride. And in 1979, the Formula 1, Dywa-Cosworth 008 was unveiled.
What do you think of that then?
Given that they'd actually built this one, it hard to imagine what the rejected 002 to 007 designs must have been like!
Respected Formula 2 driver Alberto Colombo, who'd previously attempted, unsuccessfully it must be said, to achieve Grand Prix qualification for both the ATS and Merzario teams, was mentioned as a possible driver. But the car was never seen in public again. Which, in all honesty, was probably for the best.
Dydo wasn't finished yet, though.
In 1980, he not only displayed the Dywa-Cosworth 010 (what happened to 009?) before a dismayed audience, but actually took it to Monza for a round of the British Formula One Championship. And perhaps most amazingly of all, he'd persuaded Piercarlo Ghinzani (then a leading F3 & F2 hand) to drive the thing.
Piercarlo would later perform respectably in over 70 Grand Prix, but he failed to qualify the Dywa, for what was little more than a 2nd division Formula 1 race, by a full 37 seconds.
Another successful Formula 2 driver, Maurizio Flammini, also tested his metal in the 010. But they never showed any inclination have another crack at racing it.
Piercarlo Ghinzani's outing at Monza would be the only time that Dydo Monguzzi's team would ever be seen to engage in actual competition. And seemed that, the unpleasantness that was the Dywa saga, may have finally dribbled to a predictable conclusion.
But hold hard there boy!
Six years later, a wealthy, but distinctly unremarkable, F3000 driver by the name of Fulvio Ballabio, decided to create his very own sportscar brand. Which he named Monte Carlo.
And to celebrate this monumental decision, he felt compelled to commission the construction of a similarly named racing car. The result was yet another device of questionable value, the Monte Carlo GP001.
As a driver, Fulvio was rarely troubled by marauders from behind, even when he had access to proven, competitive machinery. But this would be a new low, even for him. The Monte Carlo's entire racing career would consist of a single, slow lap of practice 10. at the Imola round of the 1986 F3000 Championship.
The Combination's failure to pleasure did not really have a profound affect on the status of our eye-brow altitude though. Since, all the while that Fulvio Ballabio was proudly persevering with his perfectly profitless progeny, it was known that lurking furtively under the GP001's shiny new bodywork, were the mouldering bones of that doughty old campaigner… Dywa 010!