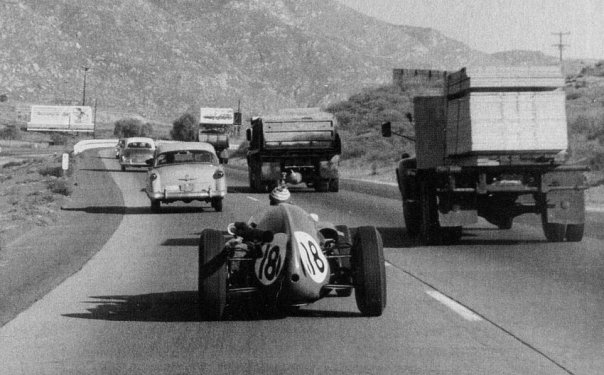 Work in this case being the United States GP at Riverside. Trintignant is easily recognised by his trademark bobble-hat. Which proves that Frenchmen are just as capable of dressing badly, as everyone else.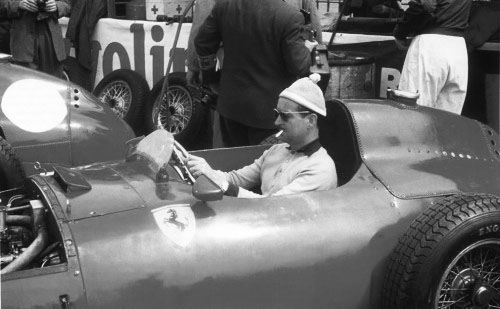 Maurice Bienvenu Jean Paul Trintignant started his career in 1938 when he took over and repaired the Bugatti that had killed his brother Louis five years earlier (which must of pleased his Mother), and in 1939 he won his first Grand Prix.
He took part in the first post-war race meeting in the Bois de Boulogne in 1945, where his old Bugatti retired with fuel problems. The problem was traced to a rat's nest in the fuel tank! This lead to him acquiring the perpetual nickname "Petoulet", which means Rat Shit!
He won the Monaco GP twice in the fifities, becoming France's first World Championship GP winner and took in his last GP at the Nurburgring in 1964, where he finished 5th. By this time he was, by a long-chalk, the last pre-war driver to still be involved in Formula One.
His last race came in 1965 at Le Mans 24 hours in a Ford GT-40.
Following his retirement from racing, Maurice Trintignant returned to a quiet life as a wine-grower (naming his vintage Le Petoulet, near the town of Vergèze, in the Languedoc-Roussillon wine growing region, where he would eventually be elected mayor.
Trintignant died in 2005 aged 87