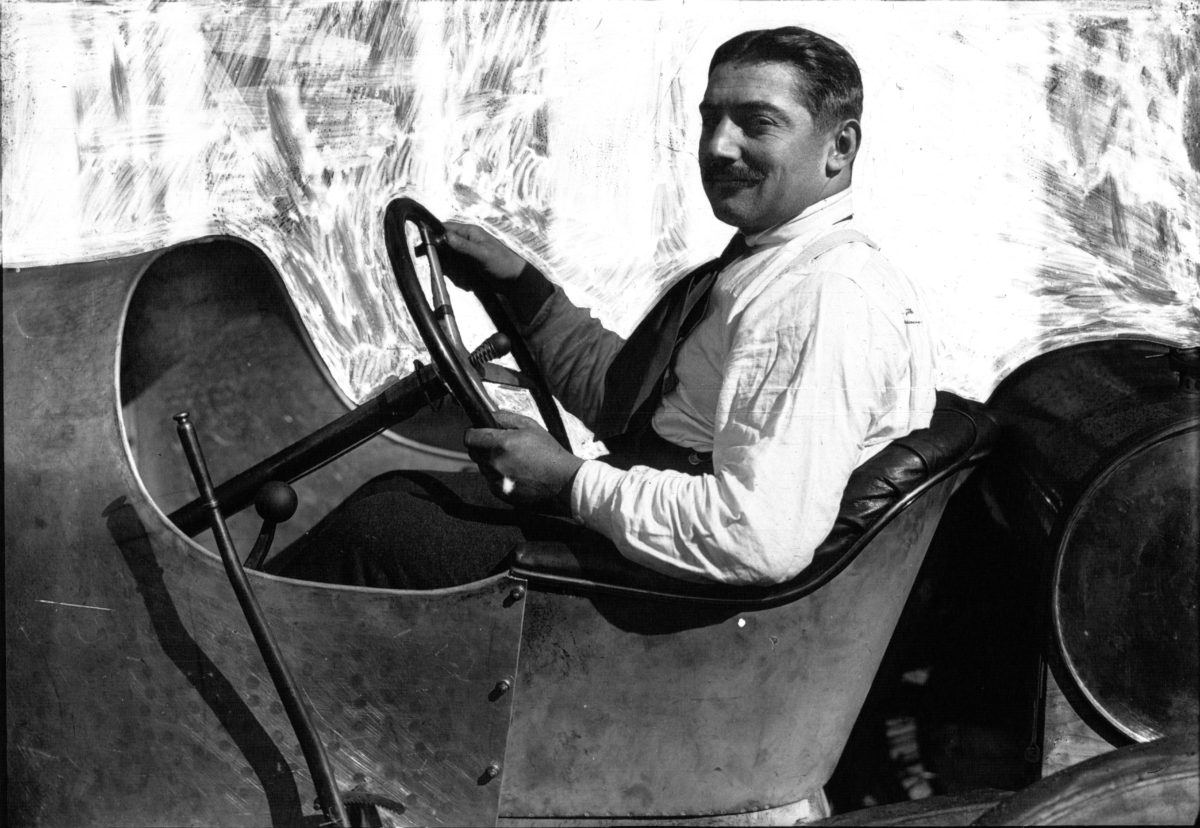 Famed for his fast and fearless driving, Georges emerged in the early 1900s as the leading driver of Robert Peugeot's Lion-Peugeot Voiturette team. And when Lion-Peugeot were absorbed into the senior Peugeot company, the racing team and its drivers went too.
Peugeot weren't interested in Voiturette racing and commissioned their new acquisition to build them a proper Grand Prix car. The result, with its ground braking DOHC engine, was one of the landmark designs in motor racing history. And for 3 years, from 1911 to 1913, all were swept before them.
Armed with the best equipment available, Georges Boillot would become the leading driver of the immediate pre-WW1 period.
Only the great Felice Nazzaro was probably more talented, but he'd stepped away from Grand Prix racing in order to delve into the commercial side of motoring. And Georges' only consistent challenge would be from the other Peugeot drivers like Jules Goux, Paul Zuccarelli, Rene Thomas and Dario Resta.
The Peugeot bubble finally burst at the French Grand Prix in 1914, (The team are seen above posing before the race with Boillot in car 19). The last major race before the onset of the first unpleasantness. Ironically it was the Germans, in the guise of Mercedes, who would finally rise to the technical challenge. And in what was considered to be Georges' finest ever race, he literally drove his car into the ground trying to fend off his Teutonic rivals.
The Peugeot finally collapsing under him on the very last lap, handing the lead to the Mercedes driver Christian Lautenschlager, who would head his team mates Louis Wagner and Otto Salzer home, to score an emphatic 1, 2, 3 for the sunny Sons-of-Stuttgart. But Lautenschlager was never in the same league of driving talent as Georges Boillot, and his victory owed everything to the benefits of the new Mercedes design.
With the outbreak of war, Georges joined the recently formed Service Aeronautique as a fighter pilot.
In 1917 he got stuck into in a dog-fight over the French town of Verdun (on his own, it's said, against 4 enemy fighters), and came off second-best to a German outfit once again. This time conclusively.
Georges Boillot was by this time such a celebrity in France that a number of streets, and at least one school, were named in his honour and apparently remain so today.
When racing resumed in 1919, Peugeot returned too. And initially it seemed that they would be picking-up where they left-off. They also had a promising new driver. None other than Georges' younger brother, Andre Boillot. But their collective stars faded rapidly, and neither Andre nor Peugeot would play a major roll in Grand Prix racing beyond that fruitful first season.
Andre continued to race though, well into the 1930s, and he would maintain a close association with Peugeot for the rest of his life. As would Georges' side of the family. His son Jean eventually rising to become a director of the company in the 1980s