Innes Ireland taking a unique approach to F1 passenger carrying at Spa in 1961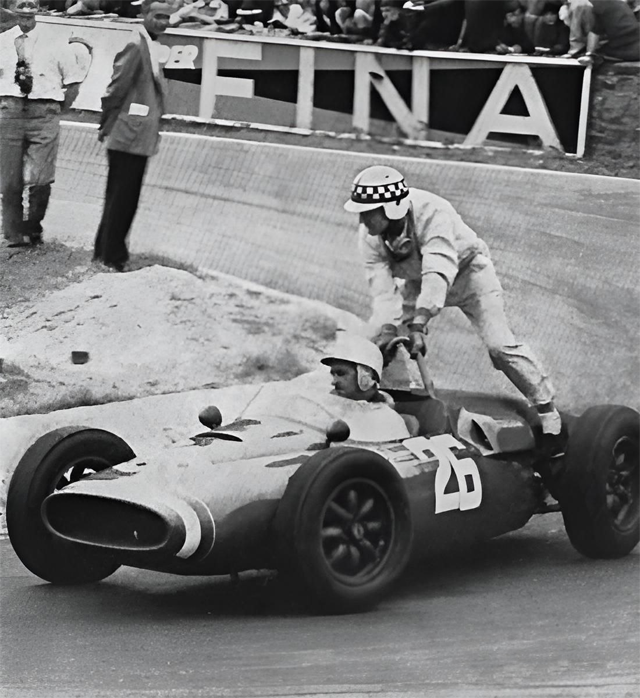 ---
At the wheel is Maurice 'Le Petoulet' Trintignant, the last pre-war driver to be involved in Formula One. Innes Ireland was a larger-than-life character who, as a rival team boss once said, he..."lived without sense, without an analyst and provoked astonishment and affection from everyone."
17-Feb-23 historicracing.com
Trintignant started his career in 1938 and aquired his nickname in the first post WWII race, the Coupe de la Liberation when his car developed fuel starvation problems due to a family of rats that had made there home in the Bugatti's fuel tank while the car had been in storage. 'Le Petoulet' literally means Rat Droppings. As an aside it was Trintignant was he who once said "Racing is life. Anything that happens before or after is just waiting". A quote often attributed to Steve McQueen.

Trintignant was easily recognisable out of his race car by his trademark bobble-hat. His last race came in 1965 at Le Mans driving a Ford GT-40 with Guy Ligier, retiring after 2 hours with gearbox problems.

Following Trintignant's retirement, he returned to a quiet life as a wine-grower (naming his vintage Le Petoulet), near the town of Vergèze, in the Languedoc-Roussillon wine growing region, where he would eventually be elected mayor. He died, aged 87, in 2005.

When Innes retired he returned to Scotland where he ran a trawler business, fishing in the Irish sea. This unusual career move was the source of many a good tale but little financial reward, and Innes returned to England after six years. He worked for a while in the car trade and then in the 1980s resumed his journalistic career with Road and Track also freelancing for magazines such as Classic Cars, and even writing on occasions for The Times. As Grand Prix editor of Road and Track and later as a TV/radio commentator. Innes was once more a fixture on the Motor racing scene.

In 1992 Ireland was elected President of the British Racing Drivers Club, succeeding the Queen's cousin Gerald Lascelles. The club, which owns the Silverstone circuit and runs the British Grand Prix (again!) was facing another of it's major crisis which Innes met effectively, despite the tragic death of his son. Around this time Ireland was diagnosed with cancer and after a courageous struggle he died in October 1993, having been married that summer to his third wife Jean Mander (nee Howarth), a former model who had been engaged to Mike Hawthorn at the time of the World Champion's death.
Drivers linked to this article