The strange tale of the Bédélia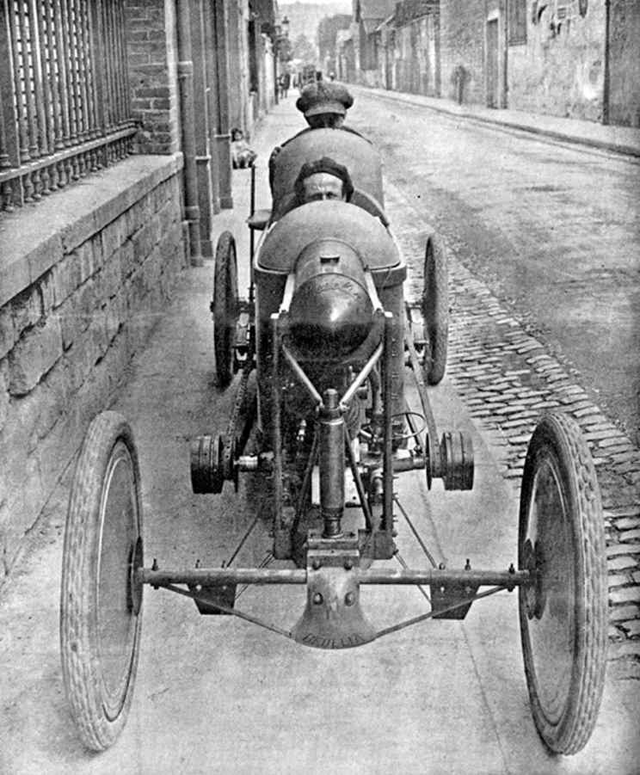 ---
This strange vehicle is a Bédélia and as strange as this vehicle looks, the design and engineering process is perhaps even stranger.
23-Feb-23 historicracing.com
Robert Bourbeau and Henri Devaux were friends studying at the Paris Institute of Industrial Electrical and Mechanical Engineering. They used an old J. Quentin motorcycle equipped with a basic sidecar to travel to the Institute and for recreational activities. Unfortunately one day in 1907 they had an accident and, though fortunately they emerged virtually unscathed, the same could not be said for the poor old Quentin!

Without the funds to repair it, the following day they decided to build a four wheeled vehivcle from whatever they could find lying about. And thus the Bedelia was born, the name made up of the young engineers' initials B and D, pronounced Bé and Dé in French.

Neccessity being the mother of invention, their resultant transportation was ingenious. Powered by the old Quentin engine mounted on the front of a basic narrow chassis with no suspension and clothed in an equally narrow and tapered body. Fuel was fed by gravity from a tank over the engine and the two students sat in tandem, with the driver in the rear.

The Bédélia had no clutch and power was transmitted individually by two belts to the rear wheels and so to start, the car had to be pushed and mounted once it was moving.

Once built the boys took a trip to Mont St Michel and the tale takes another strange turn as not only did the vehicle prove quite nimble but it also attracted considerable admiring attention from fellow motorists some of whom actually placed orders for replicas!

Given that the vehicle had been built with no commercial purpose, it found itself becoming extremely popular! Henri Devaux's father agreed to finance production and Bédélia became a automobile manufacturer operating out of a small workshop at 32 rue Félicien David, Passy, in the Auvergne-Rhône-Alpes region in south-eastern France.

Later versions were powered by a 1055 cc V Twin of 82x100mm bore and stroke. The driver continued to sit in the rear with the front passenger of rather co-pilot controlled a set of levers which enabled the belts to be shifted to effectively change gear! (Can't help thinking this it was a shame that this didn't catch on)



A Bédélia in Paris 1913

Initially producing three versions; Touring, Delivery (called Commerce) and Race. Bédélias enjoyed considerable success in Cycle Car races (a very poplar formula the the time) which led to over 3000 vehicles being produced over a four year period.



Bédélias in competition

Over the years other models were added until the outbreak of the First World War brought production to a close. After the war Bourbeau and Devaux decide to split. Henri moved into other fields while Robert sold the company to Mahieux et Cie. He went on to produce cyclecars under the Jacquemont brand however this venture closed its doors three years later.