Pablo Escobar!!! No kidding either. Apparently old 'Narcos' was quite an accomplished driver.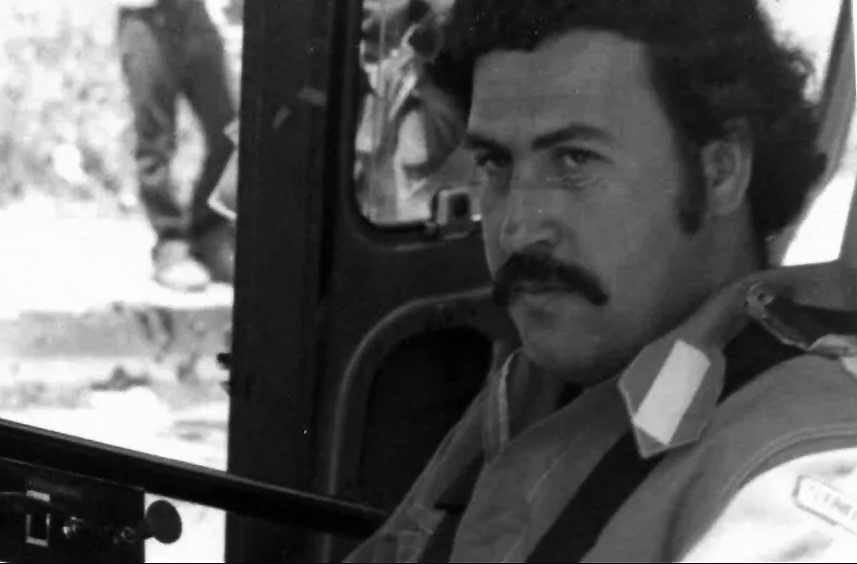 ---
Escobar started racing in 1979 driving a Renault 4 and was first mentioned in the papers in a footnote to a report on a round of the Copa Renault 4 Championship run on the 28th May that year at the Autodromo Ricardo Mejia just outside Bogotá.
17-Apr-23 historicracing.com
In the report it mentions "the newcomers: Lucio Bernal from Bogotá and Pablo Escobar, Gustavo Gaviria and Juan Yepes, from Medellín.

We know what happened to Pablo Escobar, but what of those other rookies? Lucio Bernal went on to race in Daytona 24 hour and the Sebring 12 hour races with my old friend Rob Wilson, as well as some local endurance races. Gustavo Gaviria who was Escobar's cousin and right-hand man and, arguably the real mastermind behind the Medellín Cartel, was killed in a shoot-out with police though Escobar believed that he had been kidnapped and tortured before being executed. Of Juan Yepes, no more seems to have been heard from him.




Our interest in not in Escobar the narcoterrorist but in the racing driver. Escobar was a lifelong fan of the Renault 4 and his racing exploits saw him finish as runner up in the Championship in 1979 despite on taking part in six rounds. It is 'possible' that Pablo's car might have had a slightly different application of the strickly stock rules as on a number of occasions, he was reported to have dropped back in the corners only to make up ground and pass on the the straights.




With his business fortune growing he graduated from the 24 horsepower Renault 4 to the ex-Emmerson Fittipaldi 1974 Porsche 911 RSR for local races and hillclimbs in South America. Racing the Porsche brought him into contact with Ricardo Londoño-Bridge another resident of Medellín. One of the quicker drivers in Columbia, Escobar challenged him to a race, betting he would come within 15 seconds. At the line Escobar was within eight seconds to win the bet.




Escobar gradually reduced his racing activities though he was still keen to keep his hand in motorsport circles and Londoño proved to be his means of doing so. Londoño raced in the IMSA GT series in 1979 and finished seventh in the Daytona 24 hour race in 1980. Ricardo was probably a better driver than he is often credited with and though he never actually took part in official qualifying, he could lay claim to being Columbia's first Formula One driver.




Ricardo drove in the 1980 Can-Am championship with backing from the slightly dubious 'National Association of Coffee Growers' and, at the end of his season, arrived at Silverstone for the final round of the Aurora F1 championship, the Pentax Trophy, driving Colin Bennett's aging ex-Mario Andretti Lotus 78. After an off in practice, he qualified 18th, 11 seconds slower than Emilio de Villota on pole, though to be fair the car was less than competetive. In the race he did better, coming home in 7th.

The Colombian's talent not to mention his considerable wealth made him an attractive proposition to Ensign and he was signed to the team for the 1981 season. Ricardo was entered to drive an upgraded N180 at the Brazilian GP at Jacarepagua. The FIA allowed an 'acclimatisation' testing session on the Wednesday before the race weekend and Ricardo participated even though he was still waiting for his Super Licence. His best time of 1:41.77 was four seconds slower than the best time set by Carlos Reutemann,but was none the less quicker than Nelson Piquet, René Arnoux, Derek Daly, Bruno Giacomelli, and Jean-Pierre Jabouille and was within a second of the times set by Gilles Villeneuve, Alan Jones, John Watson, Patrick Tambay, Keke Rosberg and Andrea de Cesaris.

However he did have a slight coming together with Rosberg's Fittipaldi and Bernie Ecclestone took the opportunity to look a little harder into the funding behind Londoño's drive. He quickly discoved the link with a Medellín-based company owned by none other than Don Pablo himself. Concerned with the possible affects of such an unsavory connection, Ecclestone and the Formula 1 organisers blocked Londoño's entry into the race just hours before it was scheduled to start, sabotaging his career in the process.

Escobar and Londoño's exploits ended violently. Escobar was gunned down on a Medellín rooftop in 1993, and Londoño packed his bags and went back home following his failed F1 adventure.

In 2000 Colombian authorities seized property worth $9.96 million which were deemed to be acquired from the proceeds of drug trafficing. He avoided prison but nine years later, while staying in his hotel in Cispatá Bay, one of the few assets he was permitted to keep, Londoño and his two bodyguards were gunned down in broad daylight by six gunmen from a rival cartel, dispensing 12 bullets into the former racing driver.