Archie Scott-Brown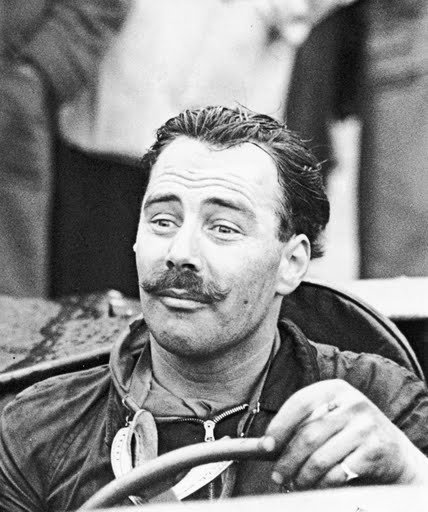 Image courtesy of Lister
---
Born in Paisley, England, May 13, 1927 William Archibald "Archie" Scott Brown was born without shinbones, his feet were clubbed and reversed and his right hand was missing. His mother had contracted German Measles during pregnancy and his physical problems stemmed from this. A number of painful operations enabled him to lead a normal life. though he never grew over 5'0" tall. Not the ideal start for a racing driver however read on...!
20-Jul-21 historicracing.com
His father, Bill, who had raced an Alvis (for whom his was a dealer) at Brooklands and other circuits and his mother, Jeay, who had also twice raced at Brooklands, were keen motor racing enthusiasts.


Bill, who had been an observer in the Royal Flying Corps during the Great War, built him for his 10th birthday, a small car powered by a lawnmower engine to aid his mobility when Archie and his passion for motoring began.

As is often the case, nature compensates for the ills it sometimes brings and in Archie case it was an amazing sense of balance which proved invaluable when riding to school on a vicious retired pit-pony.

On leaving school he took a job as a salesman for Dobie's Four Square Tobacco in Cambridge in 1949, staying 6 years.

This amazing sense of balance was also noticeable when he started racing in 1951 with an MG he had purchased with a modest legacy from his Grandmother and it soon became clear that Archie's abilities behind the wheel were of a higher order.

oth Brian Lister and Don Moore recognised this talent and it was not long before he was driving Brian Lister's fearsome Tojeiro special. In 1954 Brian Lister had started to build cars bearing his own name and he entered Archie in the British Empire Trophy race to drive the Lister with an MG engine tuned by Don Moore. There were protests due to his appearance and he was scandalously banned from racing by the RAC. The press launched a campaign in support of Archie and by the Summer of 1954 his licence was reinstated.

Lister switched to Bristol power for 1955 and Archie was winning club and national events all over the country including the Empire Trophy race that year. He also raced a Connaught at Brands Hatch in the Boxing Day Meeting and taking a win in the Formula Libre Air India Trophy Race over 15 laps

In 1956 Brian Lister changed to Maserati engines but it was an unhappy alliance however, after his performance in the Connaught at the end of 1955, Connaught offered him a works drive for 1956.

His first race was the for Glover Trophy at Goodwood in April. It started well when he qualified 2nd just .6 of a second behind Moss. However in race he retired with engine problems. He was on pole for the BARC Aintree '200' later in the month, a full 3 seconds ahead of the BRM of Mike Hawthorn in second. Once again the engine let him down and he retired on lap 13.

He finished a fine second in the BRDC International Trophy at Silverstone in May in the Connaught B-Type. In June he was on pole for the Aintree '100' but once again engine problems forced him into retirement.

Next up was Archie only World Championship appearance, the British Grand Prix on the 14th July. He qualified a respectable 10th but in the race he lost a wheel on the 10th lap and his day was over. The Vanwall Trophy later in the month provided further frustration. He then travelled to the Italian Grand Prix at Monza in September. He put the Connaught on provisional pole but his entry was then refused on medical grounds. His response was to shrug his shoulders, fly to Geneva and buy himself a new watch.

Archie and Brian Lister (on right). Archie is displaying particularly fine form by managing to smoke while holding two trophies.

After a good qualifying performance (2nd) and setting the fastest lap, he retired once again when an oil pipe failed. He finally took a win in October at Brands Hatch in the BRSCC Formula 1 Race. His performances had drawn admiration from everyone including Fangio, who called him "a phenomenal pilot with uncanny car control".

In 1957, he had the opportunity to race the works BRM in the British GP but, after brake problems in testing and on advice from Mike Hawthorn, he declined the offer. However, he continued to race in sports cars and returned to drive for Brian Lister.

After Brian's unhappy time with the Maserati engines, he switched to Jaguar power in 1957. With Archie at the wheel, the Lister-Jaguars, affectionately known as the Knobblys, became the benchmark for front-engined sports racing cars. Even it's poor brakes didn't stop Archie. If they failed, he announced, he would: "carry on without them, old boy." Known for his courageous driving style, he was often to be seen getting his Lister very sideways indeed. He entered 14 races in 1957, winning 12 of them. The car then went into limited customer production for the 1958 season.

He finally obtained an international licence in 1958 and went to race in New Zealand where he won the Lady Wigram Trophy. He was in America at the end of March for the 12 Hour race at Sebring and there were plans for a Lister Le Mans entry. Archie had also become good friends with Archie Butterworth (see note 51), a somewhat eccentric inventor. Scott Brown had become a great enthusiast for Butterworth's designs. "The Archies" laid down plans for a season of AJB powered Formula 2 racing, and at the beginning of 1958 a Cooper chassis was acquired, and an entry filed for the Formula 2 class in the Monaco GP but in the end though, the car wasn't ready.

Teamed with Archie Scott Brown, Archie Butterworth had thought that he may finally realise his AJB Grand Prix project, and was planning a purpose designed 2.5-Litre Flat-8 engine, to compliment his highly developed AJB gearbox.

Over the few years he was in the sport he had developed a fierce but good-natured rivalry with rising American driving talent Masten Gregory. In May, Masten had beaten Archie at Silverstone. They were both driving Listers, Masten for Ecurie Ecosse, Archie for the works team. The Ecurie Ecosse Lister had modified from wings and it has been suggested that these provided greater downforce. Whatever the reason Archie was well beaten in what were similar cars. While waiting for Butterworth's Formula 2 car, Archie went off to drive the works Lister at Spa on May 18th, keen to take revenge on Gregory for his defeat at Silverstone.

The weather was mixed and on lap six, Archie, in the lead, was in a customary drift, at the same spot which claimed Dick Seaman's Mercedes in 1939, when the car hit standing water. The car aquaplaned and right front wheel clipped a road sign. The axle snapped and the car plunged over the verge and exploded. Two gendarmes pulled him out but he succumbed to his injuries the next evening, less than a week after his 31st birthday.

In his short career Scott Brown scored 71 wins, 15 of which came in international competition. He died as he had lived, on the limit, and probably "going too bloody fast"! His memorial plaque at Snetterton states that he "represented everything that was best in the sport".

An fascinating anecdote from Ken Wright: It is interesting to note that due to technical advances, historic racing cars today generally post lap times faster than those of their heyday. None of the highly developed Lister Jaguars racing today, even in he hands of the likes of Gary Pearson, have beaten ASB's contemporary times.
Drivers linked to this article