Filming Le Mans, the movie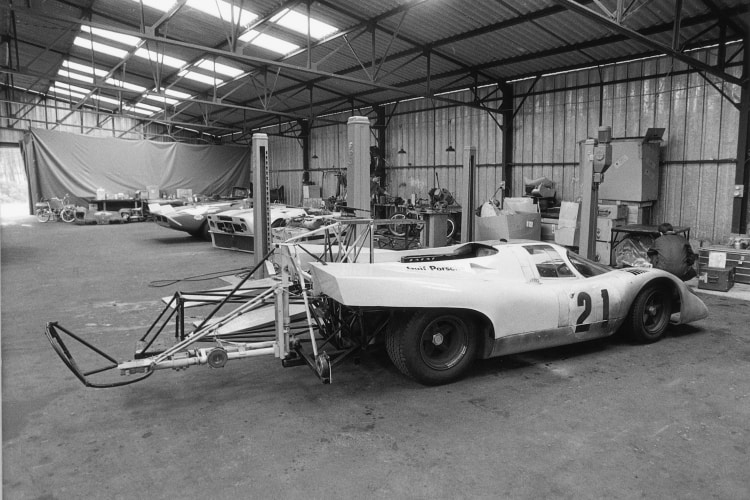 ---
The scaffolding afflicted Porsche 917 you see here was used in the filming of Le Mans in 1970. Similar contraptions were also strapped to the front, often with an intrepid cameraman as an integral part of the assembly.
25-Aug-22 Chris Bowen
Then the whole outfit was sent rattling around the 24-hour circuit as fast as possible, with other similar fabrications in close formation.

Get the DVD (or your favourite streaming service) and you can see the results for yourselves Steve McQueen was actually entered to drive a Porsche 917 in the race itself, with non-other than Jackie Stewart as his nominated co-driver. But the film company, and not least, their insurers, threatened to drop the whole project if he went through with it.

Steve backed down, but his production company, Solar Productions, entered a camera ridden Porsche 908 for experienced campaigners Herbert Linge and Jonathan Williams to pull in some footage. And despite having to make extra pit-stops to change film reels, they still managed to finish in a very creditable 9th place overall.




The same car also ran, sans cameras, in the Sebring 12-hours. And this time, Steve, having employed Revlon cosmetics heir Peter Revson as his co-driver, actually managed to get to perform au piste. In Peter he'd picked a proper, pukka pilot. Someone who had Grand Prix victories and Can-Am championships in his letter of credit. And thanks largely to some very classy driving on his professional partner's part, Steve




McQueen would magically find himself leading in a World Championship endurance race. In the end though, they'd be forced to settle for an honourable 2nd place.

Having been hunted down in the closing stages, and eventually biffed from the top shelf, by the works Ferrari 512 of Mario Andretti, Ignazio Giunti and Nino Vaccarella. Mario's post-victory comments being something to the effect that there was no-way that he was going to allow himself to be beaten by some poof of an actor!

This would though, prove to be the only occasion on which Ferrari's big-banger, 5-litre, V/12 model, would ever manage to procure itself an undisputed, World Championship victory.