Chaps Number 2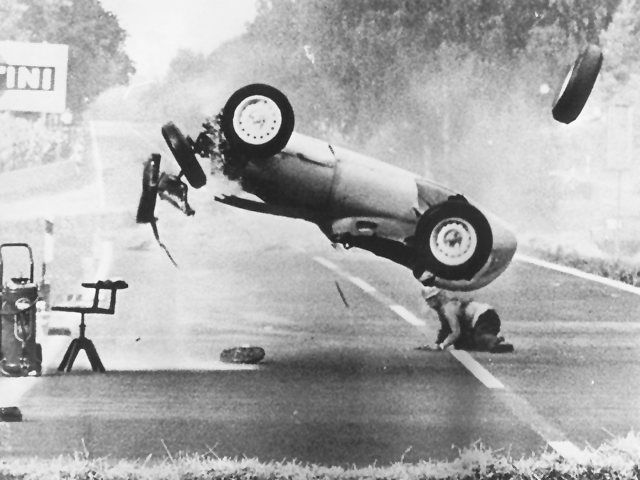 ---
For this week's Chaps we look at some of the more colourful exploits of our heroes starting with Hans Herrmann posting his retirement from the 1959 German GP at Avus.....read on.
18-Nov-22 Chris Bowen
01


Hans Herrmann posting his retirement from the 1959 German GP at Avus.
It's disappointing to see that the fire marshal has taken the opportunity to vacate his post.


02


Jo Bonnier's Cooper-Maserati at Spa in 1966. The race took place in appalling conditions which today would have seen the assembled participants sitting comfortably in their motorhomes until is was safe to venture out
. Jo crashed on the first lap, Of the 16 cars that started only 7 finished. Jackie Stewart's BRM P261 hit a telegraph pole and landed upside down in a ditch at the Masta Kink. He was trapped halfway up to his waist in fuel and water for 25 minutes. Graham Hill and Bob Bondurant, both of whom had crashed near Stewart, managed to rescue him with the help of a spectator's toolkit.


03


In the early days, to be involved in motor racing required everyone to be a chap, even the spectators.
Leon Thery in his Ricard-Brasier, dominating the Circuit de Auvergne in 1905.


04


Just to prove he really was a proper chap, here's Enzo Ferrari driving an Alfa Romeo on the 1924 Targa Florio. Luckily though, all the marshals are properly equipped with rifles.


05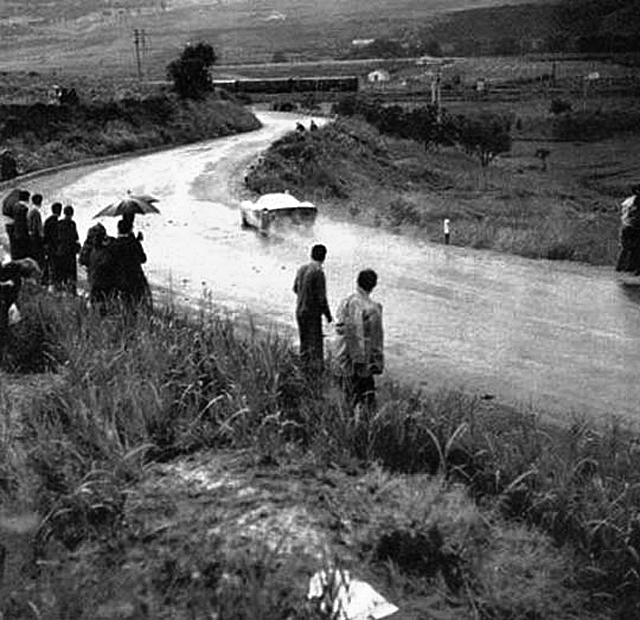 Lorenzo Bandini and his 4-litre V/12 Ferrari in the same race in 1966. The need for weapons is no longer felt necessary as the spectators are now properly protected behind those stout umbrellas.