Ray Keech in 1928 riding the titanic 81-litre White-Triplex Special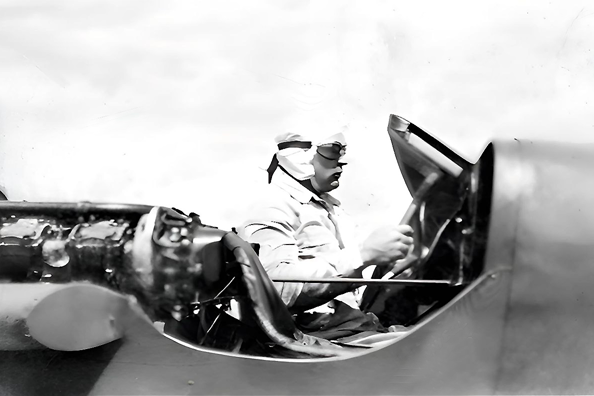 ---
Here we see Ray Keech going for the World Land Speed Record at Daytona at the wheel of the White-Triplex Special, possibly the largest capacity, piston-engined car ever constructed.
16-Mar-22 historicracing.com
Purpose built by Philadelphia businessman J.H.White, it had three V/12 Liberty engines, one in the front and two side-by-side in the back, giving a total engine capacity of 81-litres! Making the White-Triplex Special possibly the largest capacity, piston-engined car ever constructed. These were in turn mounted on a giant ladder chassis, and covered with a simple, but graceful "aerodynamic" bodywork.




Ray Keech, a winner of the Indianapolis 500 winner, was one of America's favourite drivers at that time, and employed by J.H.White on a purely professional basis. The car though, was as monstrous to drive as it looked. And Ray found it a difficult outfit to control at the best of Times. But coupled with being hospitalised after getting scalded by a burst water pipe, seriously burnt by flames leaking from a front exhaust pipe, and, on one occasion, flying, 81-litres-and-all, for over 50-feet after hitting a pot hole, he came close to telling White that he could park his so-called car in his commodious back lot!

However the record fell, setting the new mark at 207.55 mph and Ray went home a happy, but significantly wiser, man.

Twelve months later, Sir Henry Segrave had made a small improvement to the record, and old J.H. felt compelled to unholster his mighty beast and give it another go.

Ray Keech was called-up and offered a second chance at fortune and glory. His response was short and to the point. But basically, he felt he'd get far more benefit from pursuing other options, ANY other options.

And when Ray Keech, regarded as one of the finest drivers in the country, wouldn't drive it, other's took that as a warning worth taking on board. And Mr White found himself unable to acquire a firm hand to grip his tiller.

That was until his Chief Mechanic, Lee Bible, expressed an interest.




Lee had no previous experience at all of this sort of stuff. But he knew the car as well as anyone and saw it as a golden opportunity to make his mark in the World.

On the day of the record attempt, Lee informed a reporter that this was going be the "best day of my life". A statement that, in retrospect, he would probably want to thoroughly reconsider. Half-way through his run he was to suddenly able to find himself clearly understand and confirming completely Ray Keech's lack of confidence in the White-Triplex Special.




The barrel-roll that followed certainly left the required mark in the World, but it did nothing for his record chances and simply led to a text-book display of how such flamboyant behaviour may so easily result in one's personal dust allocation becoming substantially and with finite implications...bitten!