Chaps Number 6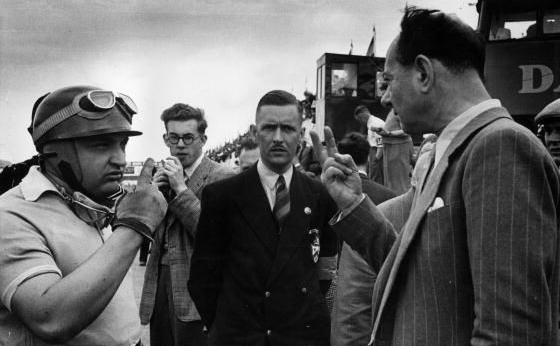 ---
This episode of Chaps features some interesting design ideas that, how can we put it politely, were never going to work, as well as Jose-Froilan Gonzalez looking a little like the late John Belushi, apparently indulging in a Fuck-Off contest with BRM founder Raymond Mays.
24-Nov-22 historicracing.com
01
All racing drivers should look like this No.2.
Jose-Froilan Gonzalez, photographed at Silverstone in 1951. Just a few hours before becoming Ferrari's first ever World Championship Grand Prix winner.
We called him "The Pampas Bull". The Argies call him "El Cabazon", which, literally translated, means Bighead!
Despite being a proper chap, he managed to survive his Grand Prix career and live to the very respectable Chaps age of 91.
02
Gonzalez again. Apparently indulging in a Fuck-Off contest with BRM founder Raymond Mays.
Note the officially appointed RAC referee
03
All racing drivers should look like this No.3.
Gino Bianco in 1952. An amateur Brazilian GP driver who flew airliners as his day job, and probably held Chap rated status in both fields.
04
Cheating is nothing new.
This was Graham Hill playing his part in the BRM team's crude attempt to sabotage the straight line speed of Innes Ireland's rival BRP in 1964. The BRP mechanics were mystified that Ireland kept retiring with that old favourite. "Crap in the carburettors".

BRP (The British Racing Partnership) were a controversially high-profile team run by Alfred Moss (father of Stirling) and Ken Gregory (manager of Stirling) initially from the Moss family farm in Tring.

They had little real success on the tracks but were genuine pioneers of commercial sponsorship in F1. They also had a distinctly iffy safety record.

Hans Herrmann's big 1958 accident at AVUS (see Chaps 4) was in a BRP entered BRM. While in the following 6 months Ivor Bueb, Harry Schell and Chris Bristow all reaped the benefits of having fully paid-up life-insurance policies, as a result of finding employment at the wheel of BRP's squad of heavily modified Coopers.

In 1961, British drivers Cliff Allison and Henry Taylor both had F1 career ending accidents in BRP cars. An achievement matched in the same year by Argentinean hot-shot Juan-Manuel Bordeu, before he'd even managed to start in a Grand Prix.

And in 1962 the great Stirling Moss himself took the opportunity to have his final retirement inducing accident at the controls of a BRP entered Lotus.

Interestingly, had he not had to retire, Stirling was to have driven the rest of the season in a semi-works Ferrari. Run, of-course, by BRP. It was delivered, but in Stirling's absence was raced just once, by Innes Ireland in a non-championship race at Silverstone, before the Man-at-Maranello asked for it back.

BRP tried building their own BRM powered cars in 1963 and 1964, without any better success. Then in 1965 they turned their hand to the Indy 500.

This took place without any embarrassment, but also without troubling the organizers of the prize-giving ceremonies. That would be their last ever race.

Another fact though. While Stirling Moss never drove in the Indy 500, his old dad Alfred Moss, pre-war, did.
05
All racing drivers should look like this No.4
Glen "Fireball" Roberts in 1964. A genuine NASCAR legend. Giving a racing driver the nickname "Fireball" in those days, was a clear temptation of fate. And several months after this photo was taken, those fates finally noticed the joke and conspired to arrange a suitably ironic demise for our man. Which was surprising, since you'd have thought that those casual leather loafers would have afforded more than enough protection.
06
Hey boss, lets put the driver in a side-car and give him the steering wheel off of a Routemaster bus.
This is NASCAR star Bobby Johns attempting, unsuccessfully of course, to qualify Smokey Yunick's "Hurst Floor-Shift Special" at Indianapolis in 1964.He ended the unpleasantness by backing the device into the scenery.

This was not just the hare-brained fantasy of some unrealistic chancer. This was the hare-brained fantasy of NASCAR & Indy legend Smokey Yunick, who's cars already had NASCAR championships and an Indy 500 win to their credit.

Yunick was also legendary for his run-ins with the NASCAR authorities. This reached a peak in 1968 when at a post-race inspection it was announced that they'd found 16 irregularities with his car. Yunick then climbed into the stripped-down car, which was missing it's regulation-size petrol tank, and said "you'd better make that 17". He then fired up the tank-less car and drove it back to his pit!

After that he retired from racing to run his Daytona Beach garage business called "The Best Damned Garage in Town". Unfathomably, the unraced Hurst Floor-Shift Special still exists.
07
Hey boss, let's put ALL the radiators in the front.
This is the Irish Republics greatest F1 driver, Derek Daly, trying, naturally unsuccessfully, to qualify the Ensign N179 at Kyalami in 1979. The car was hastily re-configured in time for the next race, and exists today in this tediously conventional form.
08
A Martini Racing Porsche 917 being refuelled at Brands Hatch in 1971
The chap of interest is on the left. He appears to have a fuel tank on his back, and forty-odd years on, you can still read his lips!