Few car builders have ever arrived with the impact that Cisitalia made in the fun-starved, post-war 1940s.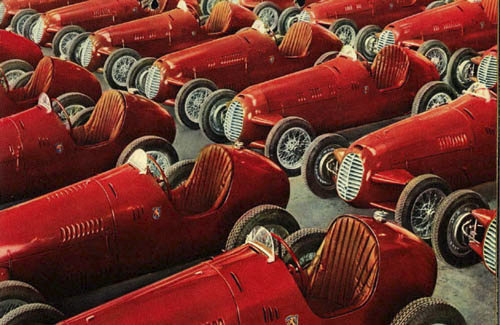 ---
And few have ever shown so much promise and spent so much money, only to ultimately achieve so little.
20-Dec-22 historicracing.com
Based in Turin, it was the brainchild of wealthy entrepreneur and pre-war amateur racing driver Piero Dusio. He saw the need for a new chassis to meet the post-war shortage of cars available for "Voiturette" (GP2) racing, and commissioned his old friend Dante Giacosa, the designer of the legendary Fiat Topolino, to come up with something suitable. The result of Giacosa's work, the D46, was laid before an eager public in 1946. And with it's all-independent "Topolino" style transverse leaf-spring suspension and Fiat based 1100cc 4-cylinder engine, it proved an immediate success.




For 1947 Dusio had the idea of running a one-make series for these cars. With races to be held at each of the Grand Prix meetings. There was a lot of initial interest in this novel idea, and a couple of trial races were held (In Egypt, of all places!), with a number of big-name drivers taking part. But to run a proper championship would have required people to put their hands in their pockets. And guess what. It didn't happen.




The next Cisitalia project was to be a sports car. The Cisitalia 202. Designed by Giacosa again, but this time with help from some of his other Fiat collegues.

It combined the D46 engine with an all-new, state-of-the-art chassis. But what really brought the 202 and the Cisitalia brand to the public'c attention was the dramaticaly styled bodywork. Designed by the experienced, but so far not particularly renowned, Battista "Pinin" Farina (Pinin means "little one" in the Piedmontese dialect. It became his nickname as a result of him being his parent's 10th child, and literarly translated Pinin Farina means Little Flour), the the Cisitalia 202 is considered to be a genuine landmark in the history of car design. Providing the styling bridge between the pre-war era, and the more integrated forms that were to come.




The 202 was no slouch either. And on the circuits proved able to punch well above it's weight. It's greatest moment came on the 1947 Mille Miglia, when Tazio Nuvolari, who's health was now fading fast, lead for over 800 of the 1000 miles in a spyder bodied example of the breed. Sadly, dampness got into the little car's electrics towards the end of the race and eventually he had to settle for second place behind Clemente Biondetti's much more powerful Alfa Romeo. But it was, and is still today, considered to be one of Nuvolari's greatest ever drives.

The 202 may have been a popular success, but it was too expensive and only a small number were ever built. Nevertheless, by 1948, Piero Dusio was already onto his next project. His most ambitious of all. A full-blown Grand Prix car.

One person who figured prominantly in the history of Cisitalia, was Carlo Abarth. As well as being involved in the development of the 202, he also ran a one, with a special lightweight cycle-winged bodywork, for his own team.




This was probably the most highly-developed and generally successful Cisitalia of all, and would provide our man Nuvolari with some of his very last victories. But Abarth was also a friend of Ferdinand Porsche, and when Dusio wanted to commision somebody to design him his Grand Prix car, Carlo Abarth was able to open the right doors for him at Porsche's Austrian based design bureau.

Ferdinand Porsche was himself in jail at this time, accused of aiding the Nazi war effort. But his son Ferry and his chief designer Karl Rabe took up the challenge. What resulted was to be one of the most innovative Grand Prix designs of all time.




Based on a sophisticated space-frame chassis, it had a 1500cc, supercharged, four-cam, Flat-12 engine mounted at the back. A 5-speed all-synchromesh gearbox and, most radical of all, four-wheel drive. This could be switched to rear-wheel drive by moving a lever in the cockpit.

The predicted power output was nearlty 450bhp, which would have been devestating at the time, and a top speed of 210mph was confidently expected to be possible. Known as the Type 360, Piero Dusio announced his intention for the monster to be on the tracks within 12 months. Well that did it, didn't it!




Dusio never really had the money for such a grand project, and it soon became apparent that Cisitalia was in trouble. The 202 wasn't selling fast enough, and the 360 was draining every last penny the little company had. In 1949 it all came to a head, and all manufacturing was stopped.

In order to lie-low and avoid some of the flak, Piero moved to Argentina, and took one of the unfinished 360s with him. There he attracted the interest of President Juan Peron, who had dreams of establishing his own government sponsored, all-Argentinian, motor industry.




Dusio was employed to help with the birth of Autoar, as it became known. And as a further benefit, was allowed funds to finish off his Grand Prix car, with the intention of racing it to promote Peron's new brand.

But progress was terribly slow, and it wan't until 1953 that the car finally ran in public, in the hands of local driver Clemar Bucci during practice for the Buenos Aires Grand Prix. This was a pretty minor event, run as a Formula Libre race, and in fact the formula for which the 360 had originally been designed was now dead. With the engine only giving about half of the power that had been predicted by it's designers, and the gearbox giving constant trouble, it was not auspicious. And the car went home unraced.

The 360's last stand was to be an attempt on the wonderfully obscure South American Flying Kilometer Record. But Bucci found even this to be a struggle

In the end they did come away with a new record at 146.6mph. But this was only 6mph better than the old record, and that had been captured with far less glamourous equipment. As a comparison, in the Italian Coppa Acerbo race in 1950, the works Alfa Romeos had been timed doing over 190mph on the Pescara circuit's longest straights. And this wasn't a specially prepared record attempt, this was in race-trim!

The dream was well-and-truly over, and the 360 never ran again. 10 years later it was found by Huschke Von Hanstein of Porsche, who brought it home for restoration and display in the company's Stuttgart museum. A second, unfinished car remained in Europe, and can be seen today at Donnington.

Piero Dusio now left Autoar to it's own devices (it just about manged to survive into the 1960s), and retuned to Italy. Surprisingly, Cisitalia was still a going concern, but the glory days were long gone. From now on, the brunt of the effort went into building a series of unremarkable, small-engined, Fiat based sports cars. But even these never sold strongly, and in 1965 the factory closed for good.




One little oddity. The hand-tinted photo of Nuvolari at the wheel of the 360, shows it in Argentinian racing colours. By the time the car had made it to it's new home, Tazio would have been in very poorly, and it's unlikely that he would have made a trip all the way to South America just for some poxy publicity photos.

In fact the picture was certainly taken while the largely uncomplete car was still in Italy. And one assumes that, being Italian, it's actual colours would have been of a considerably more reddish nature.