Tommy Milton, winner on the Boards, Bricks, Dirt and Sand, gave no quarter and expected none.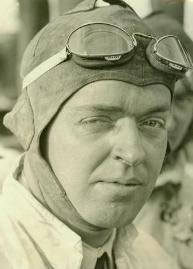 ---
Tommy became one of the most successful drivers of his era despite the complete lack of sight in his right eye and only limited vision in his left! (He managed to pass his medicals by simply memorising the standard eyesight test cards of the day.)
29-Dec-22 historicracing.com
Fiercely competitive, extremely intelligent with an explosive nature and a sharp tongue, Tommy Milton was born in St. Paul, Minnesota, the son of a prosperous dairy owner. The young Milton enjoyed sports however with the advent of motor racing Tommy found the most suitable outlet for his sporting ambitions which would eventually include land speed records, 50 lap and distance records on board tracks, two wins in the Indy 500 (the first man to achieve this), 15 major wins in races over 100 miles and the 1920 and 1921 American Drivers' Championship.

At the age of 20 he commandeered the family Mercer and joined Alex Sloan's IMCA circus travelling around the country taking on locals and staging 'grudge races' between his stars. When he started to win races, the established drivers complained and he was summarily dismissed.

Unable to enlist during World War I due to his sight, he teamed up with Fred and Augie Duesenberg in 1916. After failing to start at Indianapolis as his car was not ready and Chicago where he failed to qualified, he finally took a start on the Board Track at Des Moines in June though he crashed out on lap 29. he then had a run of four consecutive top ten finishes culminating with a second at Tacoma, once again on the boards. Though the rest of his season was disappointing.

Another full season followed in 1917 and his results improved. He finished second in July and in September took a third and two wins on the concrete oval at Providence, Rhode Island, including one in a 100 mile race. He took thee more seconds to round out a successful year.




1916 Harkness Trophy, Sheepshead Say - Johnny Aitken (#10 Peugeot) 1st, Tommy Milton (#25 Duesenberg) 9th, Dario Resta (#4 Peugeot) dnf 32 laps. Source unknown

Racing was limited in 1918, suffering from the effects of the war in Europe, but come 1919 he took on the role of lead driver for Duesenberg and, using their new straight eight racing engine, he enjoyed a dominant season winning five of the nine championship races including the 'International Sweepstakes' at Sheepshead Bay, New York, and the prestigious Elgin road races. He made his debut in the Indianapolis 500 that year but retired on lap 49 with a broken con-rod. His season came to a premature end however when his car caught fire at Uniontown in September.

Fully recovered after just two months, he set a number world closed course records at Sheepshead Bay and laid plans to take the Land Speed Record with a twin-engined car which he designed and built over the winter. The car was powered by two 300 cu.inch straight eight Duesenberg engines driving through separate propeller shafts to a rigid rear axle fitted with two differentials.



Tommy Milton in the twin engined Duesenberg prior to his 1920 156.03 mph run, Source unknown

He took his first win of the year in March on the Beverly Hills board track and was then due to race in Cuba before travelling to Daytona for the attempt on the World Land Speed record. The twin-engined Duesenberg was shipped to Daytona for final work before the record attempt. However while Tommy was still in Havana, on the orders of Fred Duesenberg, Jimmy Murphy drove the car, breaking DePalma's record. When Tommy found out he was incensed.

He rebuilt the engines and on April 27th, he set a new mark of 156.046 mph. Unfortunately the European governing body, the AIACR, did not recognise the run as it had not been sanctioned by them. It was however recognised in the USA.

He finished 3rd at Indy in May and took three more wins, a second and a third to take the United States National Driving Championship (but only after Russ Catlin officially revised AAA records changing the champion from Gaston Chevrolet to Tommy).

With his relationship with the Duesenbergs destroyed over the record attempt, Tommy set up on his own in 1921. While developing his own car with Cliff Durant (the financial backer of Harry Miller's racing engines), he accepted a drive in a Louis Chevrolet designed straight-eight Frontenac for the Indy 500 that year and also attempted to qualify the Durant Duesenberg. He failed to make the grid with the Durant but driving the Frontenac he took a memorable win after a tactical race which saw him take the lead when Ralph DePalma, who had a three lap lead, broke a connecting rod on the 112th lap. Roscoe Sarles was second, two laps down....driving a Duesenberg.



Tommy Milton, Eddie Hearne, Barney Oldfield (Miller Golden Submarine), Louis Chevrolet and Cliff Durant at Ascot Raceway in 1917 Source unknown

Once the Miller powered Durant Special was sorted it proved a winner, especially on the board tracks, and Tommy used it to good effect to take the 1921 drivers' championship only to have it outlawed by the AAA in 1922 due to a dispute over its name.

Winning on the boards of the Kansas City Speedway in 1922

In 1922 fuel tank problems put Tommy's Milton's Leach Special out of the Indy 500 after only forty-four laps, but he picked up several victories and many places on the board tracks at Beverly Hills, Tacoma, Cotati, the Kansas City Speedway (in a race which saw Roscoe Sarles tragically loose his life) and Fresno.



The HCS Special. Image courtesy of Indianapolis Motor Speedway

He built another car for 1923, the HCS Miller, and made history by becoming the first person to win the Indy 500 twice. Later that season he set a dirt track one lap and 100-mile distance records at Syracuse, New York, in a totally dominant victory. He also set World speed records in classes C and D, 141.17 and 151.26, driving a new Milton-built Miller (the Convertible) at Muroc Dry Lake in 1924.

In the last two years of his driving career Tommy formed a three car team with Bob McDonough and Ralph Hepburn and won races at Charlotte in October 1924, Culver City, California in March 1925 and again at Charlotte in November that year. At Indy in 1924 he retired after 110 laps, but in 1925 he finished fifth.

He only raced once in 1926 when he ran on the new 1/4 mile board track at Fulford-by-the-Sea near Miami, Florida. Ralph Hepburn topped the time sheets on the opening day with an unheard of 141.19 mph. Four days later Tommy went even faster with a speed of 142.93. Designed and built but carl Fisher the track featured 50 degree banked corners which required a speed of 110mph just to stay stuck to them! Tommy retired in the race which was won by Peter DePaola. The track had attracted huge attention with crowds of over 20,000 packing the grandstands. It seemed that carl was on to a winner but Mother Nature had other ideas and on September 22nd the strongest hurricane to hit the Miami area, up to that time, moved slowly across South Florida taking in FulFord-by-the-Sea on its way. Instruments to measure winds of 150 mph were completely blown away and, when the storm had passed, Carl Fisher's speedway consisted of a random pile of debris made up of 1,000,000 board feet of timber. This turned out to be quite handy as it was used to rebuild homes and businesses destroyed by the hurricane.

After the race Tommy announced his retirement and accepted an engineering position from Col. Jesse Vincent with Packard Motor Car Company.

He did make another appearance behind the wheel at the brickyard in 1927 when he and his partner Cornelius Van Ranst developed Cliff Durant's Detroit Special. However when Cliff fell ill, Tommy stepped in to deputise finishing a respectable eighth after a number of unscheduled pit stops.

At the 1936 Indy 500, Tommy drove the Packard 120 Pace Car and, at his suggestion, the tradition of giving the race winner the Pace Car began that year. In 1949, at the request of Wilbur Shaw, Milton was appointed chief steward for the Indianapolis 500. Health problems forced him to retire in 1957.

Dogged by ill health, Tommy Milton died in 1962 in Mount Clemens, Michigan at the age of sixty-eight from self inflicted gunshot wounds.

During his career Tommy competed in 85 races on board tracks, more than any other driver. His 17 victories on the boards was second only to Jimmy Murphy's 18, and of the 85 races on the boards Milton scored a total of 52 top five finishes.