Rodger Ward Wins the 1959 Indy 500, and displays the 'instantly printed' newspaper headline to prove it.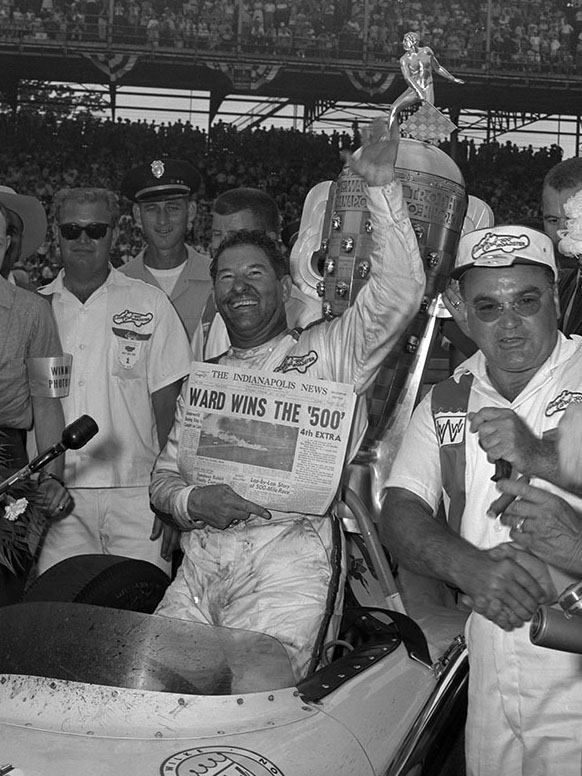 Indianapolis Motor Speedway Museum
---
Ward had been running the 500 every year since 1951 with only a solitary 8th place to show for it. But his luck would change when his 1959 win initiated an unprecedented 6 year run of results, 1st, 2nd, 3rd, 1st, 4th, 2nd. Finally notching up a total of 26 USAC victories, which was enough that today he is considered to be one of the greatest drivers of his era.
29-Dec-22 historicracing.com
A few months after Rodger's Indianapolis glory the first United States Grand Prix was scheduled to be run at Sebring, and there was a body of American opinion that believed that a properly run Short-Circuit USAC Midget car could easily see off anything the Europeans had to offer. Rodger Ward would become the man to put their theory to the test.

Armed with a classic 1750cc (Formula one allowed up to 2500cc at that time) Kurtis-Offenhauser, and backed by his Indy sponsors Leader Card Lotteries, he took himself to Lime Rock to challenge the cream of American road racers; And figured very well, actually winning one heat outright from a field that included a Maserati 250F driven by future F1 driver Chuck Daigh.



Roger Ward at Lime Rock in 1959.
Image by Don Cooke; courtesy Dave Nichols/Barcboys.com

Ward and his backers were encouraged enough to enter the car for Sebring. Unfortunately though, Rodger had greatly overestimated the quality of his opposition at Lime Rock, and had probably greatly underestimated his own contribution, in that any success he'd enjoyed had probably owed far more to his ability as a driver thanit did to any qualities inherent in his trusty steed.

For some reason Rodger believed that while his car was clearly going to be down on power against the regulars, the cornering abilities of the Midget would more than compensate. He was genuinely of the opinion that the combination would be competitive, and told the Cooper team as much when he met them in the hotel on the eve of qualifying.

The awful truth must have dawned almost as soon as qualifying began, and when the grid was announced on Saturday evening Rodger Ward and the little Kurtis were well-and-truly last. Nearly 44 seconds off of Stirling Moss' pole time, and almost 5 seconds slower than the next slowest qualifier. The temptation to pack up and go home must have been immense. But Rodger Ward was a sportsman and a man of integrity, and the organisers were banking on the presence of the Indy 500 Winner to bring in the crowds. So to his great credit, albeit with a very heavy heart, when the grid lined up for Sunday's race Rodger took up his place at the back and braced himself for a spectacularly thorough drubbing.

In the end the clutch gave out after just 20 of the longest laps of his career, and his humiliation finally dribbled to a miserable conclusion.



Roger Ward at Sebriing in 1959.
Image courtesy Louis Galanos

Interestingly, visible commercial sponsorship was strictly banned from Formula One in those days, and wouldn't become legal until 1968 when the South African Gunston team would dip a toe in the water, and Gold Leaf Team Lotus would then take up the idea and run away with it. But Ward's Kurtis is clearly carrying the Leader Card logo on it's flank, as well as a Mobil sticker behind the driver's head. Whether this was ignored, overlooked or allowed by special dispensation has never been made clear, but it was almost certainly a first for Grand Prix racing.

It would be easy to say that our man had learned a lesson from his experience, but for Rodger Ward it would be more profound than that. He'd been given a glimpse of the future, and he knew it. He began to wonder what a European style Indy car could do, and actively encouraged his new friends at Cooper to give it a go. Which they did in 1961, with a specially prepared F1 style Cooper-Climax.

Jack Brabham's mid-field performance in the Cooper didn't exactly open the flood gates, but it definitely broke the seal. American constructors like Watson (with Rodger Ward as their lead driver) and Mickey Thompson, began to dabble with the layout, then in 1963 Lotus turned up at Indianapolis and the deluge truly began.

The "Roadsters" held out for another 2 years, A.J.Foyt would take the last "Front-Engined" Indy 500 win in 1964, but in 1965 Jim Clark fulfilled Rodger Ward's vision and those flood-gates were firmly wedged open for good. Within the next 2 seasons the very last Roadster would have run it's very last race.

As for Rodger Ward, he wasn't quite finished with F1. Reg Parnell invited the Indy Legend to drive one of his Lotus-BRMs in the 1963 US GP at Watkins Glen. And, while he didn't set any Worlds on fire, he did at least allow himself to sign-off his brief Grand Prix career with a bit of well-earned dignity.