Felice Nazzaro at the wheel of the Fiat S76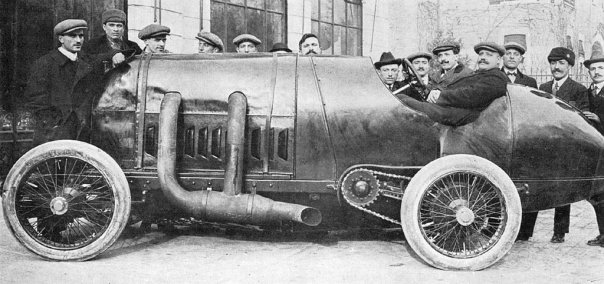 ---
Nicknamed "The Beast of Turin", this was definitely a vehicle of LARGE proportions. The radiator cap was five foot from the ground! But it's largest and most beastly feature was it's 28.3 Litre, 4-cylinder engine. It is thought that the individual cylinder capacity of just over 7-Litres was the largest ever built to use spark-ignition. Best of all though, it seems to have been a completely pointless exercise, resulting in a completely useless progeny.

Why they ever bothered is far from clear!
07-Jan-23 historicracing.com
It was too big for Grand Prix racing. I have read that it won the Indy 500, but it didn't and, I have read that it held the World Land Speed Record, which it didn't, although it did have a go at it. It seems that it was used in some minor races at Brooklands and various speed trials, but that was about it.



Surrounded by gentlemen of like-minded facial hair interests, Nazzaro is about to depart on the S76's first tests upon the streets of Turin in 1912.

It's possible that 2 may have been built, but even that seems to be uncertain, some say one, Duncan Pittaway who built a replica, says two.

What is certain is that Felice Nazzaro was probably the best driver in the world at that time. And after conducting those first tests amongst the Turin traffic, he declared it to be an undrivable dog.

Fiat then took it to Brooklands where driver the appointed driver, Pietro Bordino could only confirm Nazzaro's assessment. However, he did drive it up to Yorkshire, on the public roads, to take part in a series of races on Saltburn Sands. Why Fiat would take a car, of any proportions, all the way to the North of England just to run in some minor beach races is anyone's guess.



The radiator cap was five foot from the ground!

It was rumoured that the great American racing ace, Ralph de Palma, was then buying the car but nothing came of this and there seems little truth that one of the S76s was shipped to the States in 1912 and was timed at an unofficial 132 mph at Long Island or Daytona Beach. I is true that a US promoter did announce his intention to organise an event pitting the S76 against a record holding Blitzen Benz but nothing ever came of it.

One car (possibly the same car) was sold in 1913 to amateur enthusiast Prince Boris Soukanoff of Russia, ostensibly for record breaking purposes. But he found it scary beyond belief and shipped it to France where, with the Prince following, he employed Arthur Duray, then 32, to pilot the beast. The car was shipped to England and tried out again at Brooklands. However after two laps at about 125 mph, the Prince who was riding with him, had had enough, accepting that to continue would be dangerous. Apparently the Fiat having gone closer than 6 inches off the top of the Members' banking. Any further and they would have been joining Percy Lambert who had perished there on the 31st October 1913 and reputedly still haunts the banking!

This was not the end of the story. The car was shipped back to France and a suitable (debatable) road was found outside Ostend. Unfortunately after making 14 test-runs at over 125 mph and having being timed at over 140mph, none of the attempts could be ratified. The car's unpredictable handling contributing further to them abandoning the attempt on the record.

The was returned to the Turin factory. After the war another attempt on the record was considered but apparently the Germans had commandeered all the parts that had been left at Ostend. A search was carried out for the Prince but no sign of him could not be found. <>BR>
The car languished unused at the factory until 1925, when another purchaser appeared and the car was shipped to Mexico, never to be seen again. It was thought to be in Tampico in 1928, and it was also rumoured that the massive engine was used for many years, to power an oilfield pump. Maybe it's still there!

As a footnote in 2003 Duncan Pittaway heard of the remains of an S76s was in Australia. It was not in the best of conditions but apart from missing the engine it would prove to be the basis of a restoration/recreation project. The search for a suitable engine led to a surprise that Fiat itself has on the the engines in a warehouse on outskirts of Turin!

There is some speculation regarding the transaction of acquiring the engine but I think we will leave that alone for now and just accept that though we started by saying we didn't know why FIAT ever bothered to build one in the first place, we must thank Mr Pittaway for giving us the chance to see this beast brought back to life. The Edwardians were a crazy bunch!