David Piper
2/12/1930
Record updated 12-Apr-23
David Piper. One of the most successful sportscar racing privateers and a right proper Chap. Who, during the course of filming Le Mans, the movie, became intimately involved in a caramboulage of a level of magnitude that, when the dust had settled, left him with an approximate, and permanent, 50% deficiency in the overall length of one of his original allocation of legs.


David Piper, known as 'Pipes' to his mates, was the caricature of the English Gentleman racer. Born in 1930 to a wealthy farming family (they apparently made a shed-full of money when the government decided to run the M1 across some of their land), David had the time and resources to devote himself fully to the art of motoring sportlyness when the calling came to overwhelm him.




Starting out in hillclimbing and sprinting, as was the default procedure back in pre-karting days, he rapidly graduated to circuit racing with a Lotus VI and a Lotus XI sports car, before turning his hand to single-seaters with one of that young Mr Chapman's Mk16 models.



David in his supercharged MG engined Lotus VI in1954 wining the Bristol MC and LCC meeting at Castle Coombe

And it was by applying himself to the effective operation of this unit, that he came to see his name embossed in the register of approved Grand Prix drivers. Thanks to a couple of suitable excursions during the 1959 and 1960 seasons.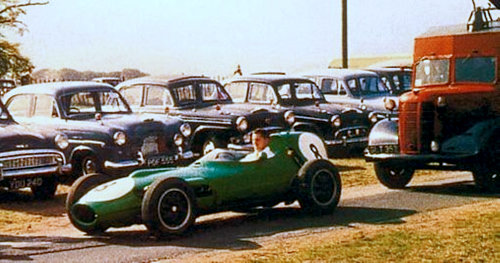 David's best F1 result in the device (he also, by deftly swapping the engine, was able to race the same module in Formula Junior events) was a 2nd place at New Zealand's Lady Wigram Trophy meeting. But the suspicion was already taking shape, that he'd probably encounter a rather more pleasurable experience in the slightly more gentlemanly sphere of sportscar racing. So in 1962, with that in mind, he slapped down the deposit on a brand new Ferrari 250GTO, and set about proving his hunch to be correct.

For the rest of the 1960s, David Piper Auto Racing built up an enviable reputation for operating at the highest professional level. Thanks to which, when Mr Piper wasn't at the helm himself, the team was usually able to call upon the services of some of the handiest deputies in town. Including the likes of; Jo Siffert, Pedro Rodriguez, Richard Attwood, Mike Parkes, Jean-Pierre Beltoise, Brian Redman and team regular, the South African, works Cooper F1 driver, Tony Maggs. And likewise, when he wasn't riding for his own stable, David Piper's driving services were highly regarded enough to be sought out to infest the cockpits of rival concerns as revered as Ferrari, Porsche and the legendary, Gulf sponsored, JW Automotive team.

His outfit also specialised in endowing some of the world's more far flung enclaves of motorsport with their popular presence. Commonly seeking out colonies of competition in, what were then, lightly patrolled neighbourhoods like Africa, Asia, South America and Scandinavia.



Here's David's distinctive, green GTO, on the grid (Number 15) before the 1966 Angolan Grand Prix. Which was just about to undergo it's vigorous progress around the glamorous streets of the capital Luanda.



For much of his driving career, David Piper had made his machinery purchases in the small town of Maranello, in northern Italy. But after wrestling the World Endurance Racing Championship back from Henry Ford's boys in 1967, Ferrari decided to take a bit of time-out from sportscar racing, and for the next couple of years declined to offer their customers any worthwhile new produce with which to wet their competitive whistles.

Initially the Piper team made do with an updated, but ageing, Ferrari 250LM. But as this gradually declined as a competitive proposition, David decided to look elsewhere for his equipment. Stuttgart, to be precise. And another healthy deposit was soon forked out. This time as a downpayment on one of the exciting new, £16,000, Porsche 917s (The list price for a Lamborghini Miura was, at the time, in the region of £9,000).




The 917, with it's 4.5, flat-12, air-cooled litres of Teutonic grunt (surprisingly, due to the shortcomings of the cooling system, with only 2-valves per cylinder) was, as all chaps know, brimming with trouser-dampening potential. It would eventually develop over1000bhp, in its final turbocharged, Can-Am incarnation. And had little problem achieving speeds of over 230mph, in Le Mans race trim. At birth though, it had all of the charisma of a shoddily educated, and questionably bred example of the species, "Man's-Best-Friend".

Unstable handling and poor reliability plagued the factory team's efforts at house-training, and lead to long delays in the supply of cars to their bit-champing customers. David Piper even went out and bridged his vacuous void of unfulfilled delivery, with the acquisition of a Chevrolet afflicted, Lola T70.

As the seventh decade of the 20th Century dawned though, the problems had been largely ironed out. And the type would augment its solitary 1969 World Championship victory, with a further 14 more over the next two seasons. Compared to the rival Ferrari 512 model's measly 1, over the same period.

For David Piper Auto Racing, 1970 was going to be a busy year. Not only would the team have a pair of 917s to run at some events, but the Lola would get brought out for a regular thrashing as well. And aside from the racing duties, David had come to an agreement to supply cars and drivers to generate footage for Steve McQueen's forthcoming movie, "Le Mans". Which would be based around the 1970 edition of the race.




Coincidently, this would also be the occasion of Porsche's first ever 24-hour victory. Courtesy of Hans Herrmann and Richard Attwood, sharing the pilotage of a 917 for the Austrian, semi-works Porsche-Salzburg team. In fact every one of the 7 classified finishers in that year's very wet race, would be a product of Dr Ferdinand's emporium of Swabian glee.

The Steve McQueen job though, would leave David Piper with a whole new slant on life.




Now, from the outside, a Porsche 917 looks like a pretty nifty bit of kit. Strip away that thin veneer of the fibreglass dobber's art though, and what's left doesn't look very promising at all. As demonstrated by Bob Wollek and Erwin Kremer, lounging here in a replica chassis built up by the Cologne based Kremer Brother's team in 1981. Clearly visible in this picture, and apparently drawing the keen attention of both of the incumbents, is a fine example of the infamous chassis pressure gauge. The early 917 chassis suffered so badly from cracked tubes, due to the whole caboodle flexing under high loads, that the pipework was pressurised, and a gauge mounted on the dashboard to allow the conducteur to keep a weather eye on it's ability to remain so. When the gauge dropped, the chassis had cracked, and even the most skilled of chauffeurs was well advised to seek out the nearest lay-by.

What you clearly didn't really want to do, was to have a really big wreck in one of these creatures. In the course of the filming work at Le Mans however, our man Piper was to become intimately involved in a caramboulage of precisely that level of magnitude




When the dust had settled, this was all that remained of his substantial investment. The "front" of the car is to the right, where you can clearly see the driver's seat and the heavily molested steering wheel. But you have to admit that there seems to be worrying little left in front of that. Behind the barrier, contemplating the devastation, is non-other than Mr McQueen himself.

Not surprisingly, David was left feeling a little under-the-weather. But given the circumstances, the fact that he was left feeling anything at all, was probably seen as a positive development. Unfortunately though, he couldn't, if you're really honest, have been said to have escaped all in one piece. Since the experience had left him with an approximate, and permanent, 50% deficiency in the overall length of one of his original allocation of walking legs.





David Piper's days as a Gentleman racing driver seemed over. So he became a Gentleman team owner instead, and David Piper Auto Racing were to continue their globetrotting ways over the next season. But the following year, the rules that'd allowed for two of the most exciting seasons of endurance racing ever seen were, naturally, changed. And the Piper Porsche 917 would be reduced to competing, with considerable success mind you, at increasingly less fulfilling strata of the sporting man's environment.

With an increasing lack of interest in spending the money now being asked for a competitive replacement for the 917, David Piper decided to bring his career, and his garage doors, to a close. And that seemed to be the end of the matter.

Except that it wasn't. Because David never sold off any of his apparently redundant collection of racing cars. Which proved fortunate when the rise in popularity of historic racing, during the seventies and eighties, meant they eventually came flooding back into fashion. When the time was right, David Piper Auto Racing was re-convened, and with the man himself triumphantly returning to the driving duties of his famous, and of course fantastically original, apple-green bolides, the legendary ensemble marched on into the 21st century. And, despite the fact that David's now approaching the eightieth year of his expedition aboard our popular cosmic spheroid, they're still going strong today.

So, ladies and wassernames. The toast is David Piper, proper Chap.

historicracing.com

<