Tazio Nuvolari
16/11/1892 - 11/8/1953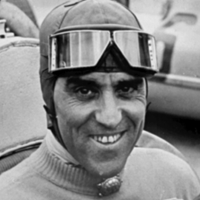 Tazio Giorgio Nuvolari was an Italian racing driver. Starting out on motorcycles, he turned to sports cars and single-seaters. His 150 wins in all categories, included 24 Grands Prix, five Coppa Cianos, two Mille Miglias, two Targa Florios, two RAC Tourist Trophies, a Le Mans 24-hour race and a European Championship in Grand Prix racing. Tazio Nuvolari died 69 years ago, he was 61
Italian racing motorcycle and car driver.
Tazio NuvolariNuvolari was born in Castel d'Ario, Mantua. He was the fourth son of Arturo Nuvolari (a well off farmer and a known cyclist) and his wife Elisa Zorzi.
Nuvolari has been (and still is) admired for his many special qualities and his human characteristics.
He obtained the motorcycle race licence in 1915, when he was 23, but was soon recalled to the Army as a driver, when Italy entered WWI. In 1917, He married Carolina Perina, by a civil ceremony (quite a scandal for those times).
His career started with motorbikes and he had his first official race on June 20, 1920 in Cremona at the Circuito Internazionale Motoristico. He won his first race on March 20, 1921 in Verona.
He became a professional driver, and soon met Enzo Ferrari (still a driver and not yet the founder of Ferrari). Nuvolari quickly became very popular in Italy, where he was called "Il campionissimo delle due ruote", "the two wheeler Campionissimo" (the same title will be later given only to Fausto Coppi, bicycle champion).
He begun testing himself in Grand Prix motor racing and he won the prestigious Targa Florio, in Sicily. After that, he decided to dedicate himself only to cars. His fame grew rapidly and famous poet Gabriele D'Annunzio gave him a little golden turtle with dedication: "To the fastest man in the world, the slowest animal". He obtained victories on most of the Italian circuits and in the Mille Miglia. In 1932 he dominated Grand Prix motor racing, winning the Monaco, French and Italian Grand Prix events.
Perhaps his greatest ever victory was the German Grand Prix of 1935, where, in an outdated and uncompetitive Alfa Romeo he defeated Germany's vaunted Auto Union and Mercedes Benz racing outfits in front of Adolf Hitler, who was said to be outraged and refused to shake his hand afterwards. The hosts were so expectant of a German victory that they didn't have an Italian anthem to play.
Personal misfortune (in a few years he lost both of his two sons) made people even more passionate about him. His determination led him, proverbially, to insist on racing even when the car was losing components, or burning, causing several accidents. He also once competed in a Grand Prix with a broken arm.
He died on August 11th, 1953, in his bed.
Ferdinand Porsche called him "The greatest driver of the past, the present, and the future."
Some of Nuvolari's major career victories:
Belgian Grand Prix 1933
Belgrade Grand Prix 1939
British Grand Prix 1938
Coppa Acerbo 1932
Coppa Ciano 1931, 1932, 1933, 1935, 1936
Eifelrennen 1933
French Grand Prix 1932
German Grand Prix 1935
Grand Prix d'Albigeois 1946
Grand Prix de Nice 1933, 1935
Grand Prix de Pau 1934
Grand Prix of Naples 1934
Gran Premio del Valentino 1935
Gran Premio de Modena 1934, 1935, 1936
Hungarian Grand Prix 1936
Italian Grand Prix 1932, 1938
Mille Miglia 1930, 1933
Monaco Grand Prix 1932
Penya Rhin Grand Prix 1936
Targa Florio 1931, 1932
Tripoli Grand Prix 1928
Vanderbilt Cup 1936
Yugoslav Grand Prix 1939