Louis Chiron

3/8/1899 - 22/6/1979
Record updated 07-Mar-08
Louis Chiron was one of the great pre-war drivers. He took part in many races and with various famous cars, From Bugatti to Mercedes and from Delage to Alfa Romeo. A native Monegasque, he won the 1931 the Monaco Grand Prix. Aged 56, he ended the 1955 Monaco Grand Prix in sixth place with a Lancia D50. For all his tallent as a driver he was however responsible for denouncing Hellé Nice as a Gestapo agent during the war. His unsubstantiated allegation totally destroyed Nice's life. Shunned by all she died in abject poverty in 1984.

Louis Alexandre Chiron was the son of the maitre d'hotel at the Hotel de Paris in Monaco, and was born in the Principality in 1899.

As a teenager, Louis Chiron fell in love with cars and racing. He learned to drive at a young age and during World War I he had been requisitioned from the artillery section to serve as a chauffeur, legend has it, for Marshals Foch and Petain. He returned to Monaco after the war to become a professional dance partner. Despite the money to be made whirling appreciative ladies around the dance floor, it was motor racing that stirred Chiron's passion and, thanks to a wealthy American woman who was particularly impressed with his footwork, he was sponsored to take part in some minor races in 1925.

In 1926 he metAlfred Hoffmann, heir to the Hoffmann-La Roche pharmaceutical empire, who bought him a Type 35 Bugatti with which Chiron stole victory from the works teams at the Grand Prix du Comminges. He then stole Hoffmann's wife Baby, before joining Bugatti as a works driver for 1927.

Chiron began winning for Bugatti in 1928 and 1929 and even in 1930 when Bugatti's star had begun to wane Chiron he still managed to win at Spa and at the Aonaco Grand Prix in 1931.

In 1933 Chiron he teamed up with Rudolf Caracciola but Caracciola was sidelined early on after a huge crash at Monaco. Chiron continued in his private Alfa-Romeo until accepting an offer to join the works Alfa Romeo squd mid-season. He won in Marseilles, the Masaryk Grand Prix and the Spanish Grand Prix. He also took victory at Monthlery at the start of 1934. He then had a difficult time at Alfa Romeo and in 1936 he finally left to join Mercedes, however by that time Auto Union was the team to beat and Chiron quit Grand Prix racing to race for Lago-Talbot in sports car events.

Louis Chiron retired in 1938 and with the outbreak of World War II the following year motor racing was also put on hold. When racing resumed, Chiron made a comeback and drove a Talbot-Lago to victory in two French Grand Prix races. In 1949, the first Monte Carlo Rally after World War II took place and a large celebration party was given in Monaco. In what is now regarded as one of the black moments of Chiron's life, at the party, in front of numerous race organizers, race drivers, and celebrities, Chiron denounced the female driver Hellé Nice by declaring that she had been an agent of the Gestapo during the war. This has an ironic cast, in that the lure of a superior car led Chiron to join the Mercedes Benz team before the war when the Nazis were using it as an object of propaganda for their philosophy of racial superiority, at a time when his Jewish colleague and rival René Dreyfus could not. His unsubstantiated allegation totally destroyed Nice's life and she would be shunned by all, dying in abject poverty.

By the time the new Formula 1 circuit was organized for the 1950 racing season, age was beginning to catch up with him but he still won the 1954 Monte Carlo Rally paired with Swiss racing driver Ciro Basadonna. In F1 racing, Chiron did manage a podium finish in his fifteen races and in 1955, in front of a hometown Monte Carlo crowd, a few weeks before his 56th birthday he became the oldest driver to compete in a Formula 1 race. To the applause of Prince Rainier and his many fans he guided his Lancia D50 to a sixth place finish.

After a remarkable 35 years in racing, on his retirement Chiron still remained active as an executive with the organization running the Monaco Grand Prix who honored him with a statue erected along the Grand Prix racecourse and named one of the track's curves for him. Louis Chiron held the most podiums in Bugatti cars, and the 21st Century Bugatti company remembered him with a concept car named in his honor.


Belgian Grand Prix : 1930
Czechoslovakian Grand Prix : 1931, 1932, 1933
French Grand Prix : 1931, 1934, 1937, 1947, 1949 (Reims)
German Grand Prix : 1929
Italian Grand Prix : 1928
Spanish Grand Prix : 1928, 1929, 1933
Grand Prix du Comminges : 1947
Grand Prix de Marseilles : 1933
Grand Prix de Nice : 1932
Spa 24 hours : 1933
wikipedia.org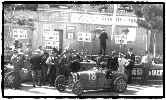 Louis Chiron at the 1930 Monaco Grand Prix. He finished second in his Bugatti T35C.

<