Andre Guelfi

6/5/1919 - 28/6/2016
Record updated 21-Jan-23
André Guelfi alias 'Dédé la sardine', was a pretty decent driver and an overly greedy adventurer who in 1992, was the conduit for some £25 million of commissions from Elf's 'black box' of secret funds which landed him in court. He was later ordered to pay back €31.2 million plus another $13.3 million, for misappropriation, back to Elf.

Born in Mazagan, Morocco, the son of a Corsican military officer, Guelfi was always an entrepreneur, chauffeuring tourists along the beach from the age of 10. By 16 he had become a debt collector for the local bank. He ended up earning more than the Bank Manager and invested in the sardine industry. He introduced refrigeration aboard the ships and pioneering a technique of freezing sardines earning himself the nickname 'Dede la Sardine'.

During the war he enlisted in a Moroccan regiment in Italy and became a driver.

He started racing in 1950 mainly in North Africa driving first a Delahaye, then a Jaguar.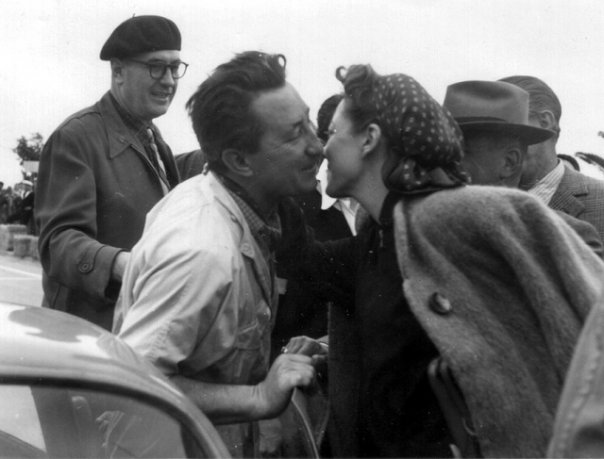 In 1953 he came to international prominence racing a Gordini sports car, taking it to class and outright wins at Agadir and sharing a works car with Behra in the 12-hour race at Casablanca, retiring with a broken shock absorber.

In 1954 he took a class win and sixth overall at Le Mans driving a Gordini with Jacky Pollet and also raced a single seater Gordini at Pescara going out when his car caught fire on the first lap.




He continued to race mainly in Africa winning the Moroccan championship in 1955 however he still made occasional forays into Europe.

In 1956 he drove with Nano Da Silva Ramos at Le Mans, going out with clutch problems and in the 1000Km of Paris, where they crashed.




In 1957 he raced at Pau, finishing seventh, though some way behind the leaders. The pale blue Gordini's were now no longer competetive and in 1958 Andre switched to racing a new rear engined Cooper. In June he finished second in the Prix de Paris at Montlhery, only three seconds behind Henry Taylor also in a Cooper. He also raced in the first and last Grand Prix of Morocco when an F2 class was added to bolster the field. He was the last classified finisher



Guelfi driving an Alpine A220 at the Circuit de la Corniche in 1968

He subsequently raced on in Morocco through the sixties, and as late as 1968 his name still appeared in the results when he took second place in a race in Rabat in a Porsche 911R.

He left Africa in the 1970s and settled in Paris, working in real estate. He married the niece of the then French president Georges Pompidou. With his impressive contacts he built a small empire, acquiring 128 of the city's buildings. He moved into a mansion in Lausanne, overlooking Lake Geneva and aquired a private jet (He sold the property to the Musée Olympique in 1993).

He worked as a negotiator with Elf Aquitaine and, in 1992, he was the conduit for some £25 million of commissions from Elf's 'black box' of secret funds to German businessmen and lobbyists, some linked to Helmut Kohl, when Elf bought the Leuna refinery in East Germany. He also paid the novelist Françoise Sagan £1 million to persuade her friend Mitterrand to keep Le Floch-Prigent on as President at Elf.

In the spring of 2003, while driving towards the Paris courthouse where the trial in the Elf affair was about to begin. His lawyer explained to André,then 84, that he was going to appear in the same room as Marie Antoinette.
"Who is that?" he asked.
"Marie Antoinette" his lawyer relied questioningly, "she was the wife of Louis XVI."
"Oh good" said Guelfi, "and how much did she take?"
With a wave of his hand, the lawyer mimicked the blade of the guillotine. "Oh la la, that's not good for me!", sighed Guelfi, facing prosecution for having unduly received tens of millions of euros in commissions on deals linked with Elf.

For his part in the far wider affair he was given a 3 year suspended jail sentence and a 1 million Euro fine. After other controversial dealings, he retired and wrote a book on his life called 'Original', published in 1999.



Guelfi in 2004

He bought Le Coq Sportif company and became involved in sports sponsorship along the way. He became a friend and advisor to IOC President Juan Antonio Samaranch.

In 2000, he moved to Malta where he lived in Madliena.

2008 a Maltese Court of Appeal upheld a French court sentence that ordered Guelfi to pay back €31.2 million plus another $13.3 million, for misappropriation, back to Elf.

He had just celebrated his 97th birthday the month before he passed away overnight at his home in Saint-Barthélemy. Better known as St. Barts, Saint Barthelemy is a French-speaking Caribbean island, known for its white-sand beaches and designer shops.

historicracing.com

<