Kenelm Lee Guinness
14/8/1887 - 10/4/1937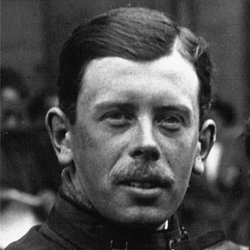 Kennelm Lee Guinness was a member of the famous brewing family. He was also the inventor of the KLG spark plug. He started racing as riding mechanic for his brother Algernon in a Darracqs and went on to be an accomplished driver in his own right. Kenelm Lee Guinness died 85 years ago, he was 50
While studying at Cambridge University he had acted as mechanic for his older brother, Sir Algernon Guinness and when he left Cambridge, Kenelm took up racing on his own account. He found a home for his racing cars in some outbuildings at an old disused pub called The Bald Faced Stag in Putney Lane on the London to Portsmouth road.
Unlike his brother Algy who drove by the seat of his pants, Bill studied the circuits and techniques of racing to get the best results possible. He had get mechanical empathy and always drove to finish.
Always a bundle of nerves before a race, he was unwilling to talk to anyone and if he happened to mislay his lucky little white wollen hat, it was best to stay well clear. Bill was shy but was always polite even to foreigners who in general he did not take kindly to.
He raced a Darracq in the III Tourist Trophy on the Isle of Man on Thursday May 30th 1907 but went out with a damaged back axle after 2 laps.
It was while at the Isle of Man Tourist Trophy Race in 1912 that Kenelm became so frustrated with his spark plugs that he resolved to make a better performing plug. Kenelm began to experiment at The Bald Faced Stag and decided to try other materials rather than the porcelain, which was then used for the insulation of spark plugs. In mica he found what he was looking for, and produced a small batch of mica-insulated plugs of his own design. The results were highly satisfactory and soon his racing friends were asking him to produce more for their own use.
In 1913 he crashed out of the XIII Grand Prix de l'A.C.F. in his Sunbeam on the 15th lap of 29, but he did finish third in the VII Coupe des Voiturette at Boulogne in September.
In 1914 the Tourist Trophy was run over two days in June, with eight laps each day, giving a total of 600 miles. After the first day Kenelm, in his Sunbeam, was leading his brother Algy by just over three minutes in a time of 5hr 15min 47sec Sunbeam. The next day KLG held on to the lead while Algy dropped back. Kenelm won in a time of 10:37.49 and an average speed of 56.44 mph. Later in July he again failed to finish in the XIV Grand Prix de l'Automobile Club de France, this time his race ended on lap 9 with engine problems.
Kenelm Lee Guinness at the 1914 French Grand Prix
Meanwhile the production of KLG Plugs that begun in a small way at the old inn had taken off and KLG moved into large-scale production.
Special plugs were designed to meet specialist requirements, in particular the needs of the aircraft of the Royal Flying Corps, later to become the Royal Air Force. With the outbreak of the First World War, Kenelm joined the Royal Navy, but was asked to resign in order to concentrate on the production of plugs for the armed services.
By the end of the war, KLG plugs were famous among aviators throughout the world and the production lines at The Bald Faced Stag took the form of a modern factory employing 1,500 workers located on the Portsmouth Road immediately adjacent to the cemetary where Dick Seaman was buried. It was a fine Art Deco building and really should have been preserved, but it was torn down and is now the site of a large Asda supermarket.
From 1919 until the outbreak of the second World War, KLG spark plugs were used in almost every motoring, motorcycling or flying achievement of note, and in addition several special engines and two complete record breaking cars were produced in one of the garages at the Putney factory. The cars were Sir Henry Segrave's beautiful "Golden Arrow" and Sir Malcolm Campbell's "Bluebird", both of which were to hold the World Land Speed Record. In 1919 Kenelm sold the world distribution rights to S.Smith and Sons (M.A.) Ltd and in 1927 he sold up completely to Smiths but stayed on as a consultant.
In 1919 he bought a boat called the Samuel Green. Originally built for the Admiralty as a minesweeper but, as war was over, she had been fitted out as a fishing trawler in anticipation of being taken up by commercial interests. The Samuel Green was re-named Ocean Rover and was converted into a private steam yacht. He had all the fishing equipment removed - the large Steam Winch, Gallows, Deck rollers and so forth, then built up the bulwarks from the break of the focsle head all the way aft to the Galley/Engine Room casing, in order create suitable accommodation for the owner and his guests, the original Fish Hold and Ice Room were adapted to carry racing cars, it was considered much more practical to convey the racing cars from the U.K. to South of France or Italy by passenger ship than to drive all though Europe, strangely, whilst the Ocean Rover never sailed under the White Ensign of the Royal Navy, as a yacht, all the owners up until 1939 were members of the Royal Yacht Squadron, which entitled them to fly the White Ensign, Honour there by being restored.
At the 1921 Brooklands Easter meeting Guinness eventually got a big black and white V-12 Sunbeam wound up and put in a lap of 120.01 mph earning himself a coveted Brooklands 120 mph badge. In the Autumn of 1921 Guinness was timed down the Railway Straight at 135 mph, entering the finishing straight at 140 mph. KLG was awarded a cup by the BARC for his achievement and for running a truly thrilling race against a very fast Vauxhall and that infamous old Lorraine Dietrich "Vieux Charles Trois" which Malcolm Campbell had managed to retrieve from France after the Great War. In July he drove in the XV Grand Prix de l'A.C.F. at Le Mans in his Sunbeam finishing 8th this was followed in September by the IX Coupe des Voiturettes also at Le Mans. Now driving a Talbot-Darracq he came second. In November at Brooklands for the Junior Car Club 200 he once again finished second.
On the 16th May 1922 KLG made a few high speed practice runs in his 350bhp V12 aero engined Sunbeam 'Manitou' on the Railway Straight at Brookands which, according to friends who were timing him by hand, saw him reach speeds of 144 mph for the half mile.
The following day was greeted by gale force winds and Kenelm realised there was litle point in trying for the record but by 5pm the wind had eased and he took to the track. After a few warming-up laps he made his first runs in a clockwise direction to gain a slight advantage from the wind. He recorded a speed of 140.51 mph for the flying half mile, a record that stood at Brooklands for more than ten years. He then made the distances in an anti clockwise direction. His best speed over the Kilometer was 137.15 giving an average for both directions of 133.75
His 137.15 mph flying kilometre record stood unbeaten for seven years. His 133.75mph (215.24kph) set a new Land Speed Record, the first that was officially timed over two runs, one in each direction to alleviate favours of wind or gradient. It was the last time a World Land Speed Record would be set on a closed circuit.
It was in this car that he went on to win the 1922 Duke of York race with a fastest lap of 122.67 m.p.h. This car was acquired by Malcolm Campbell in 1923 and became his first 'Blue Bird' Land Speed Record Car.
In 1922 he also raced the Talbot-Darracq in the VII Tourist Trophy on the Isle of Man in June but failed to make the start with clutch problems but fixed the problem. Later the same day his brother took victory in the International "1500" Trophy. At the XVI Grand Prix de l'A.C.F. in July KLG failed to finish but came back in August with a win at the II Junior Car Club "200" at Brooklands, setting the fastest lap at 1m44.0 (154.14 kph). September at the X Coupe des Voiturettes saw KLG take another win in the Talbot-Darracq. Another win at the II Gran Premio do Penya Rhin in November rounded of a successful year.
Kenelm Lee Guinness at the 1922 French Grand Prix
In 1923 he came a fine 4th in the XVII Grand Prix de l'A.C.F. in the Sunbeam. Up against the faster FIATs Bill was given the task of starting fast to push the little Italian cars to thier limit in the hope of causing some kind of mechanical failure. For the first eight laps he was second, right on the tail of Borodino. Then Borodino's car faultered and retired and Bill took the lead. The other FIATs tried to up their pace but all was not well and they could not close him down. Unfortunately all was not well with the Sunbeam and by half distance he had dropped back to third. However Giaccone soon dropped out leaving the FIAT of Salamono to hold off the Sunbeams of Divo and Seagrave. Bill redoubled his efforts and retook Seagrave for third but then encounted more trouble. Seagrave overtook him again and went on to take the win. Bill was still second but his engine stalled on a sharp corner and while he tried to restart Albert Divo went by to finish second and Ernest Friderich in a Bugatti 30, to finish third. Bill and his mechanic eventually got the Sunbeam going again and came home two minutes later in fourth place.
He won the I Grand Prix de Suisse Voiturette race in Geneva with a Talbot 70 on the 15 June 1924 and in September he was due to drive a Sunbeam with Bill Perkins as his riding mechanic in the Gran Premio de San Sebastian on the Circuit de Lafarge. However on the 3rd of the month Perkins was at Brooklands assisting Dario Resta in his attack of the International Class E (2-litre) world record when they crashed. Resta was killed and Perkins suffered serious injuries that left him unable to take part to the Spanish race so Sunbeam brought in Thomas Barrett to replace him.
During the race, on lap 11, the car struck a rut in a corner near Aldeamuro and slid off the wet road crashing into the bank on the left. The Sunbeam rolled three times and Guinness and Barrett were thrown out into a steep railway cutting. Barrett died instantly and Kenelm suffered head and limb injuries that ended his racing career. Following the accident the rules were changed and riding mechanics were banned. Thomas Barrett thus became the last riding mechanic to be killed in a competition.
This spelt the end of his driving although he did lend a hand to Henry Segrave in America for the 200 m.p.h. record in the big red twin-engined Sunbeam which now resides at Beaulieu.
In 1926 he went on a treasure hunting trip to the Cocos Islands with his friend Malcolm Campbell on the Ocean Rover. The boat was sold to the Duke of Leeds of Hornby Castle in 1924 and her name was changed to Aries. In 1926 she sailed to the Cocos Islands on a treasure hunting trip with Kenelm and his friend Malcolm Campbell on board.
But Kenelm had never really recovered from the crash at San Sebastian and on Saturday April 10th 1937, he was found dead in a bedroom at his home at Melbury, Kingston Hill, Kingston-on-Thames, having apparently gassed himself. He was buried at Putney Vale Cemetery on April 14th.
At the inquest his brother Sir Algernon testified that he had become increasingly mentally unstable. KLG's doctor further explained that he had suffered from delusions, which had necessitated him being admitted to a nursing home. Sir Algy produced a sealed letter, which he had received that morning via KLG's executor, which the coroner read and offered his opinion that it indicated the probability of suicide. The doctor's opinion was that KLG had been better in recent weeks and that the suicide was a "sudden, impulsive act". Verdict: Suicide while of unsound mind.
historicracing.com