Tru Cheek broke his back in a hiking accident which left his legs paralyzed. He decided to take up racing on short tracks and turned out to be pretty good at it!
In 1954, Truceson 'Tru' Cheek fell 50 feet while hiking, breaking his back. Doctors said he was paralyzed and would never walk again. He was only 17 years old.

Unwilling to spend his life in a wheelchair, Tru learned to stabilize himself on crutches. So that he could walk with braces, the doctors broke all the bones in Tru's feet so they could then fuse them together. After this surgery, he was eventually able to walk wearing specially designed shoes with braces, but remained paralyzed from the knees down.

In 1962, Tru found his calling on a trip to California's Saugus Speedway with friends. Fascinated with stock car racing, he bought a wrecked race car, rebuilt it, painted the No. 62 on the sides and returned to the track. But officials wouldn't allow him to race because of his physical limitations.

Those officials underestimated Tru Cheek. He entered the track without officials knowing and competed under a different name. His racing career was born.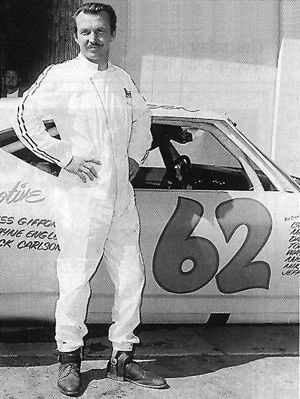 Tru built strength in his legs and upper body while ably handling the race car at speed. He never used any type of hand controls, instead he using his legs like a pair of stilts. "I don't have any lateral muscle control of my legs, but I can push and pull them to work the clutch, brake, and throttle," Tru said back in 1980.

Tony Oddo of T.O.E. Performance designed a special carburetor that helped with throttle management.

Despite the objection of NASCAR official Bill Gazaway, Tru made it all the way to the Cup level, competing twice (1971 and 1972) at the Riverside International Raceway road course thanks to the support of NASCAR President Bill France Sr. and local short track officials.

After years of racing without much success, Tru acquired setup advice and an engine from local superstar Dan Press. A winning team and close friendship formed. Tru won his first main event in 1977 and kept on winning thereafter, capturing the Saugus track championship in 1979 and 1981. With a genuine personality and true underdog story, Cheek earned the respect of fans and fellow competitors.

Although Tru retired from driving in 1985, his fan following remains. His name surfaces during any discussion of California's greatest drivers, even though many fans didn't know that he was paralyzed.

Former Indy 500 driver Steve Chassey said, "My first memory of seeing Tru was one of disbelief. How could this guy ever drive? He soon showed me just how good he was at driving a race car."

Tru still lives in Sylmar, California and enjoys flying radio control airplanes. At the last race he attended, the 1995 Craftsman Truck race at Saugus, it took him two hours to get through the pit gate because officials, racers, and fans stopped to greet the returning legend.

For more on Tru Cheek, including an extensive photo gallery, click the link below.


With thanks to Daren Favaro. Courtesy of Speedway Illustrated Magazine (www.speedwayillustrated.com)