Ab Jenkins
25/1/1883 - 9/8/1956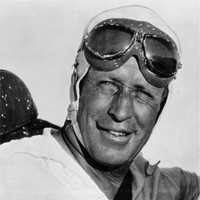 Jenkins was mayor of Salt Lake City from 1940 to 1944 and is regarded as the father of the Bonneville Salt Flats as a record breaking venue. He started racing motorcycles on dirt tracks before he became interested in long distance and land speed records. Ab Jenkins died 66 years ago, he was 73


He was born David Abbott Jenkins in Spanish Fork, Utah, to David Abbott Jenkins and Elizabeth Hurlow Jenkins, who were both immigrants from Wales, his father from Merthyr Tydfil and his mother from Pembrokeshire.

His parents moved to Salt Lake City in 1887. Following the death of his father in 1907, Ab went to work as a decorator and sign painter for the Denver and Rio Grande Western Railroad. He also learned the carpentry and masonry trades and in 1910 became a building contractor. He constructed numerous houses, churches, and school buildings in the Intermountain area.

Jenkins married Pearl Decker in 1903; following her death he married Evelyn Thorstenberg on 1 December 1915. He was the father of three children: Mrs. Elliott (Edna) Anderson, the daughter of Pearl Decker; and Marvin Edward Jenkins and Mrs. Heber J. (Ruth) Player, born to Evelyn Thorstenberg.

Salt Lake City was known as "the birthplace of speed" at the turn of the century. It was here that the young Mormon carpenter was introduced to motorcycle racing. Known as "Ab," he competed in 1/2 mile races on dirt tracks as well as in cross-country motorcycle races.

Ab acquired his first car in 1906 and began racing competitively in the 1920s. In 1926 he drove across the country from New York City to San Francisco in the time of 86 hours, 20 minutes. Two years later he completed his first twenty-four-hour race on a board track in Atlantic City, New Jersey.

An active member of the Church of Jesus Christ of Latter-day Saints, he named his race cars "Mormon Meteor," giving credit to living the Mormon Word of Wisdom, and saw his races mainly as a test of his strength and fortitude, which he attributed to his dedication to restrained, modest Mormon living. "I owe the maintenance of my endurance ability to the observance of the Word of Wisdom of the Mormon Church," said Jenkins, "which my good mother taught me as a boy. It proscribes the use of all forms of tobacco and liquor."

For many years the "Mormon Meteor III" was on display at the Utah State Capitol Building. Beginning in 1991, a restoration of the car was undertaken by Ab's son, Marvin. The race car was returned to the state capitol and a bronze bust of Ab Jenkins added to the exhibit on 21 October 1993.

A highway was put in through the salt flats in 1925. A friend who had worked on designing the road asked Jenkins if he would be willing to race an automobile down the new highway against the train as a part of the highway's inaugural celebration. Jenkins accepted the challenge. Jenkins beat the train by five minutes.

Jenkins was convinced that the area had enormous potential for racing. He set about championing Bonneville as the next great land speed track. However, the more established tracks were the preferred venues for most racers.

His racing attracted the attention of the Pierce-Arrow automobile company, who invited him to come to their factory in Buffalo. Pierce-Arrow had developed a 12-cylinder engine, but couldn't get it to out-perform their 8-cylinder. Jenkins was asked to see what he could do to improve its performance. After a few weeks of tinkering, he raised the output of the engine from 130 horsepower to 175 horsepower.

In 1932, Jenkins got the idea that running the powerful new 12-cylinder on the salt flats for a 24-hour endurance run would be perfect opportunity to show what both Bonneville and the engine were capable of. He told Pierce-Arrow officials that he would run the car 2,400 miles in the 24 hours. They laughed at him. Undaunted, he set off to test the 12-cylinder Pierce-Arrow in Utah with the car and six new tires as his only equipment.

With the help of friends, a 10-mile circular track was marked out on the Bonneville salt flats using wooden stakes. The run was timed with stopwatches. There was little in the way of amenities so a sheep wagon was towed onto the salt to provide some shelter for the timers and crew.

Jenkins removed the fenders and windshield from the Pierce-Arrow, put on a pair of goggles, and started his attempt. His times were signaled to him with large signs. Jenkins passed messages back by writing on a note pad on the steering wheel and throwing them out as he passed the sheep wagon.

He stopped to refuel every two hours, but he never left the driving seat. When he finally got out of the car after the full 24 hours he was stone deaf from the roar of the engine. He had promised the factory to cover 2400 miles but actually achieved 2710 at an average speed of 112.916 mph, just shy of the official World 24 Hour Record.

In 1933, Jenkins arranged for another endurance run on the salt, with the aim of taking the record. With better facilities than in 1932 Jenkins set off, driving the same Pierce-Arrow. After a short while a violent storm blew up with winds gusting up to 60 miles an hour. Tents were folded up and officials ran to their cars for shelter, however Jenkins kept just kept going. After his last fuel stop, Jenkins took out a safety razor and shaved while circling the track at over 125 mph with no windshield.

That summer, Cobb, Campbell and Sir George Eyston came to Bonneville and the salt flats became the mecca of land speed records. When Cobb's turn came, Jenkins left all of his equipment for Cobb and his crew to use. At the one hour mark of his run, Cobb was on pace to break Jenkins' record. His average for the first hour was 152.95 mph, compared to Jenkins' 142.62 mph. He finished with a 24-hour average speed of 134.85 mph, beating Jenkins' previous best of 127.229 mph.

Jenkins had helped another driver defeat his own record and was happy to do it. It was all in the spirit of friendly, sporting competition and helped to establish Bonneville. "Cobb is a great fellow," said Jenkins, "and it was a pleasure to do everything in our power for him."

In 1939, Jenkins brought a new car to the flats. It was the mammoth Mormon Meteor III. Built on a 142-inch wheelbase with specially-made 22-inch Firestone tires, it used the same Curtis 12-cylinder airplane engine from the Mormon Meteor II. The car was nearly 21 feet long and was once again engineered by Augie Dusenberg. It was designed to run with two airplane engines, although only one was ever installed. It generated 750 hp at 2,000 rpm and its top speed

was 275 mph. It was estimated that it could run at 400 mph with front and rear supercharged engines installed. It had a 112 gallon gas tank and got three and a half miles to the gallon at 200 mph.

Shortly afterwards, a movement was begun to elect Jenkins as the mayor of Salt Lake City. Although he entered the mayoral race late, never spent a cent of his own money and never made a single speech, he won the election.

In 1940, the "Racing Mayor" made one of his most amazing runs at Bonneville. He had made many 24-hour runs solo, but Jenkins now opted to use a relief driver. (He was, after all, 57 years old!) His relief driver was Cliff Bergere, who had raced at Indy and was also a motion picture stunt driver.

On one lap of his run that year, Jenkins ran 189.086 mph. Over the 24-hour run, Jenkins drove 14 hours and Bergere drove for 10. When Bergere got out of the car after his shift, his hands were blistered from hanging on the steering wheel to keep the car on course. He told the Salt Lake Tribune, "I'll take my hat off to Jenkins. Any man who can drive a car for six solid hours on this course at the speed that Ab got out of the machine is a marvel. I have never seen anything like it."

The Mormon Meteor III broke 21 records in 1940 and his 24-hour average speed record of 161.180 mph lasted for 50 years, being beaten in 1990 by a team of eight drivers.

Over the period of his racing career, Ab Jenkins held and broke more records than any other person in the history of the sport. Jenkins' record for the 48-hour endurance run still stands to this day.

Jenkins served as mayor of Salt Lake City from 1940 through 1943. He died 9 August 1956 in Wisconsin, where he had gone to drive the pace car for the Road American Auto Races in Elkhart Lake. Following funeral services in the Assembly Hall on Salt Lake City's Temple Square, Jenkins was buried in Wasatch Lawn Memorial Park on 13 August 1956.
hr