Maurice Gatsonides
14/2/1911 - 29/11/1998
Record updated 05-Jan-23
Maurice Gatsonides, Dutch rally and racing driver with much to answer for.....


Dutchman Gatsonides (pronounced Gatson-aye-deez) was a bit of a "Loeb". That's to say that, in the late forties and early fifties, he would have been the rally driving hero of choice for small boys of a motorsporting bent.

Born on the island of Java in 1911, he became a flight engineer for KLM before WW2 brought him down to earth and he found himself encouraged to explore other outlets for his intellect. In particular he found he had a bit of a talent for invention, which combined with an interest in engineering, lead him to develop a very successful gas generating system, that allowed the Dutch to keep their wheels turning, regardless of the shortage of fossil fuels imposed on the population by their rather unhelpful neighbours.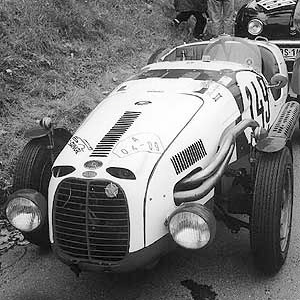 The 2-stroke Aero-Minor which 'Gatso' used to win the 750cc Class at le mans in 1950

With peace restored, Maurice embarked upon his rally driving career. He was to drive factory entered cars for Triumph and Ford - for whom he won the 1953 Monte Carlo Rally in a Ford Zephyr with co-driver Peter Worledge (a very big deal back in those days). And would also be seen out-and-about in other machinery as varied as a Jowett Javelin, a Humber Super Snipe, a Hillman Imp, a 2-stroke Aero-Minor from Czechoslovakia (in the 1950 Le Mans 24 Hour race, winning the 750cc class with Henk Hoogeveen), an Aston Martin and a rather elegant Facel Vega Facelia. All of which kept him pretty occupied until he decided to retire from active sporting matters in 1968.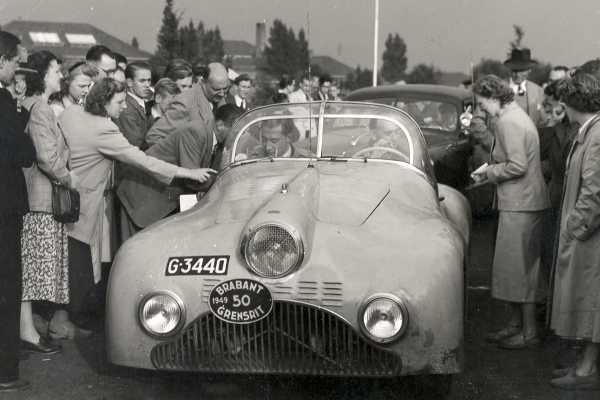 Back in 1948, he even had a go at building his own cars, under the brand name Gatso (ring any bells?).

These were, for the time, very sophisticated devices, with their American V/8 engines (usually Fords or Mercurys, although one was anointed with a 6-cylinder Fiat contrived device), and outrageously styled, duralumin bodyshells.

They didn't sell of course, and only 8 were ever built. But they were raced and rallied, and one was used by the World Bobsleigh Champion, Felix Endrich, to win the Swiss Mountain Climbing Championship. Gatsos were also curiously hypnotising to young females, who found that they were strangely unable to prevent themselves from reaching out to leave girly fingers prints all over the delicately expensive paintwork.

Despite all this, it would be his back-room tinkering that would really bring him fame and fortune. In 1958 he found that he'd invented the "Gatsometer". A fiendishly cunning device intended for recording the speed of rally cars over timed stages. In was great success, and was soon being adapted for other sports. In particular, a popular version was developed for timing swimmers.

It wasn't long before the ability to accurately measure the speed of a moving body, and to photograph it in the course of it's trajectory, was brought to attention of other authorities. Those who were more interested in it's ability to allow them to penalize the exuberant speeder, rather than celebrate their achievements. And the age of the Gatso Speed Camera had dawned.

To many, Maurice's creation was nothing short of high treason, and his closest friend was amongst those who refused even to talk to him, after getting himself snapped by one of these devices. But to the man himself, it was money in the bank. And in very satisfactory quantities! And by 1998, when Maurice Gatsonides was summoned to make a personal appearance in front of the old pearly-gatekeeper, he was able to leave Gatsometer BV as a healthily expanding, World leader in all fields of speed measurement.

historicracing.com

<