Ian Raby
22/9/1921 - 7/11/1967
Record updated 03-Mar-23
Raby started racing in 500cc F3 before graduating to F1 and sports cars. Crashed at Zandvoort in July of 1967 and succumbed to his injuries at the start of November.

Ian Ewart Raby was born in Woolwich, London, in 1927. At some point between then and the early 1950s he moved to Brighton where he worked at the Car Exchange, part of which was involved in the trade of second-hand racing cars.

After starting competing in Trials (A low-speed but highly challenging discipline where the object is to see how far you can go, rather than how fast you can get there!) but in 1953 he acquired early 500cc Formula 3 Cooper JAP, making his debut at Brands Hatch on 3rd May. He turned out to be a pretty respectable driver with decent results in his first season, including a third place in the Junior race and a second in the JAP race at Brands Hatch in October.

For 1954 he built his own car either using suspension from his Cooper or another chassis that might have been in stock. The results were disappointing and the car was sold at the end of the year. His cars from then on carried the name Puddle Jumper. Whether this was with reference to his early Trials competition or another reason is not clear.



Ian Raby at Ibsey in 1954. The ambulance has conveniently already opened it's doors in anticipation of our chaps arrival.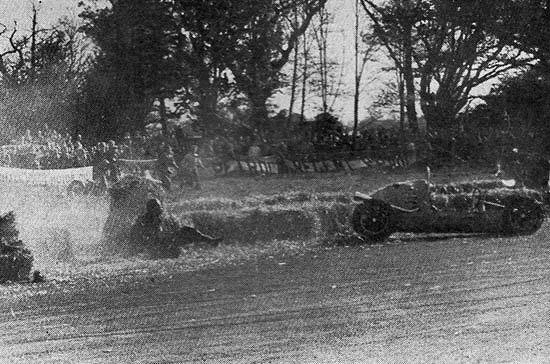 Ian even got out of the car on the way over to further speed his his trip to the waiting ambulance! Fortunately minor bruising was all he had to show for his efforts to entertain the crowd.

Anyway in 1955 he upgraded to a Mk VIII Cooper Norton and tool Jeff Elmes, who used to work at Cooper's, as his mechanic. With came an upturn in his results starting with a win in the Petit Prix at Crystal Palace in May and again in the Junior race there in July. In August he finished fourth at Snetterton and set a fastest time in his class at the Brighton Speed Trials. After a second in the Handicap race at Cadwell Park in October he ended the year with third in his heat of the Yuletide Trophy.



Ian Raby in a Cooper Mk8 Norton at Brands Hatch in the Francis Beart Trophy. 4th September 1955. photo unattributed

He upgraded to a Mk X Cooper in 1956 with good results and to a Mk XI for 1957 continuing his run of respectable results. He then sold the car to the American driver, John "Willie" Gadwa, who exported it to the USA.

So 1957 saw Ian leave the full time ranks of Formula 3 to focus on sportscar racing, driving a Cooper T39-Climax to second place at the Roskilde Ring in Denmark. In the Summer he left Car Exchange and started his own business, first in Peacehaven and later as Empire Cars and Ian Raby Racing in Brighton. In June he shared a works Cooper T39 Climax with Jack Brabham at Le Mans, finishing third in class and 15th place overall. He also reappeared in an F3 car at the end of the year, driving Albert Zains' Flash Special at the Boxing Day meeting and also made several guest appearances in 1958.



Le Mans 1967 Ian with Jack Brabham. photo unattributed.



Le Mans 1967 photo courtesy Motorsport

Ian returned to single-seaters in occasional Formula Libre outings in 1959 with various Coopers and the Hume Cooper. In August he was hired by Graham Warner to drive his Moorland BMC Formula Junior at Brands Hatch. Raby won what was the very first Formula Junior race in Britain.

Empire Cars acted as a distributor for Envoy and Ian joined the Envoy Racing Team in 1960 to drive their Envoy Ford Formula Junior and also a Merlyn Ford and a Cooper T52 BMC for Team Tyrrell. With the Cooper T52 he won his heat and finished second overall, behind his team mate Henry Taylor, in the Albi Grand Prix in France.

He continued in Formula Junior in 1961 and 1962 driving a Merlyn before buying the Gilby-BRM competing in Formula 1 in 1963. He scored few good results and in 1964 ran a Brabham BRM instead.

He founded the Ian Raby Racing Ltd. in 1961, managed by himself with two mechanics, and continued, through 1962, in Formula Junior while also working as an agent for Willie Gadwa.

In 1963 bought the ex-Keith Greene Formula 1 Gilby-BRM. He entered a couple of non_championshipF1 races finishing seventh in the Glover Trophy at Goodwood and took a respectable third in the XV Gran Premio di Roma at Vallelunga, close behind the winner Bob Anderson in a Lola Mk4-Climax and Carel Godin de Beaufort in his Porsche 718. He made his Formula 1 World Championship debut in the 1963 British Grand Prix at Silverstone. He qualified 19th out of 23 entrants and on race day retired with gearbox failure after 59 laps.



ian Raby at the 1963 Silverstone British GP in the Gilby BRM

In 1964 he switched to an ex-works Brabham BT3 with a BRM V8 engine. He finished eighth in the non-championship Gran Premio di Siracusa, Italy and again 1964 and 1965. He finished 11th in the 1965 British Grand Prix at Silverstone, seven laps down on Jim Clark's winning Lotus 33 Climax. He failed to qualify for the 1965 German Grand Prix at the Nürburgring.

In 1966, with the introduction of the 3 litre Formula, he sold Brabham BT3 and entered F2 with a Brabham BT14-Cosworth. He came fourth at the Eifelrennen before his season ended with a big crash at Brands Hatch.

Despite his age, now 46, he took on a full season of Formula 2 in 1967 with the BT14 Brabham now with a Lotus Ford twin-cam power. After a number of reasonable finishes, at the end of July he had a serious crash on the 5th lap of the seventh round of the 1967 European Formula 2 Championship at Zandvoort. He ran wide on the very fast Slotemaker Esses destroying the car and leaving him with critical fractures to his head, back and legs. He was taken to the nearby Academy Hospital in Leiden. Two months later he was airlifted to St. Thomas Hospital in London where his condition deteriorated.

Apparently he had been given infected blood shortly before his release from the Dutch hospital (This is unconfirmed information).

He passed away on Tuesday, 07 November 1967.

historicracing.com

<