Curtis Turner
12/4/1924 - 4/10/1970
Record updated 19-Jan-23
Curtis Turner, The 'Blonde Blizzard of Virginia' and first bad boy of NASCAR as well as one its greatest drivers on dirt.


Curtis Turner was one of the pioneers of NASCAR stock car racing, a member of that hale and hearty band of competitors who raced hard, lived hard and enjoyed every moment of it.

He never let racing interfere with parties and fun. In fact, there were times when he went from one of his marathon parties straight to the race track. If a lack of sleep affected his driving perception, it was not evident. He was a remarkable man but, understandably, he wasn't as remarkable as the legend that grew around him.

Curtis Morton Turner was born in Floyd County, Virginia, on April 12, 1924 and in 1938 in the midst of the Great Depression, he dropped out of school and went to work for his father's timber business in the heavily forested areas of the Shenandoah Mountains.

He learned two things quickly: the lumber business and driving an automobile. And, now he was making pretty good money logging, he found it lacking in the thrill he was looking for and Curtis' that thrill was speed. On the dirt roads around the Blue Ridge Mountains of Virginia he honed his skills in all manner of trucks and cars.

He ran his first load of 'shine when he was just 10 years old and his ability to outrun Federal agents as well as anything local law enforcement could come up enabled him to avoid ever being apprehended. By the age of 18 Turner had made a small fortune, working by day in the sawmills and by night on the back roads running moonshine. He ended up owning three sawmills of his own along with the necessary machinery and trucks to keep them going. As he became more involved in his nocturnal activities, he had a special built with Edelbrock heads and heavy duty suspension to disguise the weight of the load he was carrying. He loved to drive fast and he loved the thrill of the chase which was just as well as they were quite frequent.

Though there is no tangable proof he drove the modified Fords which hauled the moonshine, because his name never appeared in the police records. But the many legends about his expertise in the field undoubtedly have some basis in fact. Once he lined up eight full bottles of liquor on the roadway in a double row barely wider than the Cadillac with which he proposed to execute a tail sliding 180 degree turn to slide backwards between the bottles. He performed the maneuver, then got out and drawled, "It was easy. I couldn't waste all the good liquor.

He started taking part in unofficial races and after serving in the US Navy during the war he started taking racing more seriously and began "real" racing in 1946 at a small track in Mount Airy, NC, finishing last in a field of 18 cars. He won his next race and the legend was born. His style was not best suited to the more gentrified world of road racing but on the dirt tracks he was sublime. He was also very popular and crowds of fans turned up wherever he was racing and his broadside cornering style and ability to rapidly deal with any car that happened to get in his way kept them coming. Originally billed as the Blond Blizzard from Virginia but he quickly picked up the nickname Pops for the way he routinely popped competitors off the track with great abandon.



Curtis 'Pop' Turner in action in 1957 on the Daytona Beach Course driving the Holman Moody Ford

His first official NASCAR Strictly Stock win came in September 1949 on the one mile dirt oval of the old Langhorne Speedway, taking home $2250 for his troubles. he didn't restrict himself just to dirt tracks and in 1950 he entered the Carrera Panamericana in Mexico driving a Nash Ambassador with none other than Bill France. Unfortunately they crashed out and in 1957 he travelled to Nassau for the Bahamas Speed Week to race a Chevrolet Corvette which he shared once again with Bill France.

Turner raced almost from the inception of NASCAR. He was a star of Oldsmobile from 1950 through 1954, when he switched to Ford. He won 22 races in NASCAR's old convertible division in 1956 and added 17 and the Southern 500 in the Grand National division for good measure.



Curtis at Daytona Beach again

With his free for all style, Turner won 360 races, in NASCAR and out. Perhaps, though, one of his most memorable races was one he didn't win. In the Rebel 300 at Darlington, SC. Turner and Fred Lorenzen started the last lap fender to fender. What had started out as fender banging evolved into a minor demolition derby around the 1-3/8th mile track. Lorenzen got in the last bash and won the race but on the extra "cool down" lap, Turner plowed into Lorenzen, smashing the front end of his own car to bits. He walked back to the pits.

Off track he had a reputation for being a good businessman and at one point signed a million dollar contract to supply lumber. He was also a heavy drinker and hell-raiser and like to organise massive parties at his 'Party Pad' at Daytona Beach. He was also probably one of the first drivers to indulge in 'rental car races' which he did with his great friend Joe Weatherly. These would sometimes involve racing in reverse from town to town!



The inaugural Daytona 500. Curtis driving a Ford Thunderbird.

In 1960, he conceived Charlotte Motor Speedway and somehow, with hardly enough money to pay for the property, he got it built only to lose it soon afterward. In a touch of irony he opened the National School of Safe High Performance Driving at the Speedway. Underfunded, the track opened with heavy debts. Money was coming in but not quickly enough and Curtis turned to the Teamsters Union for help. They agreed but only if he in turn agreed to organise the drivers into a union. Turner agreed and along with Tim Flock, they got a number of their colleagues to join. That was until Bill France delivered an ultimatum that no union driver would ever race on at NASCAR sanctioned track. Tim and Curtis were handed lifetime bans in 1961 and to make matters worse he also lost control of the Speedway.



Not Easley but still landing where he shouldn't. This time at Charlotte Motor Speedway in the mid1960s. Jerry Overman photo.

Turner also held a pilot's licence and his own twin engined Aero-Commander aircraft. One famous incident occurred on July 23rd 1967, while he was flying back to Charlotte. He and his three friends decided they needed a drink and with nothing on-board, Curtis landed on the main street in Easley, South Carolina. Having acquired the necessary refreshments they took off again but only after narrowly avoiding a number of local motorists and removing some phone lines and traffic lights. When he landed the FAA were already waiting and suspended his pilot's license for two years.





His ban was lifted in 1965 and he made a successful return to the tracks finishing 3rd in the National 400 at the Charlotte Speedway and then winning the first race held at the North Carolina Motor Speedway in Rockingham two weeks later, despite a broken rib, Turner started fourth in a Ford owned by Glen Wood. He was in contention from the beginning and fought off drivers whose fathers had once been his rivals. Finally it was between Turner and the idol of the young, Cale Yarborough. Lap after lap, Turner held off every Yarborough probe and went on to score his most lucrative victory. His great driving talent never left him.

Turner came back to win the Permatex 300 in a Late Model Sportsman car at Daytona Beach, FL, the following year. Then he and Smokey Yunick collaborated on a Chevelle in 1967. He retired after a bad crash at the Atlanta International Raceway in 1967. Yunick withdrew from the collaboration , saying, "I will not build the car that Curtis Turner was killed in."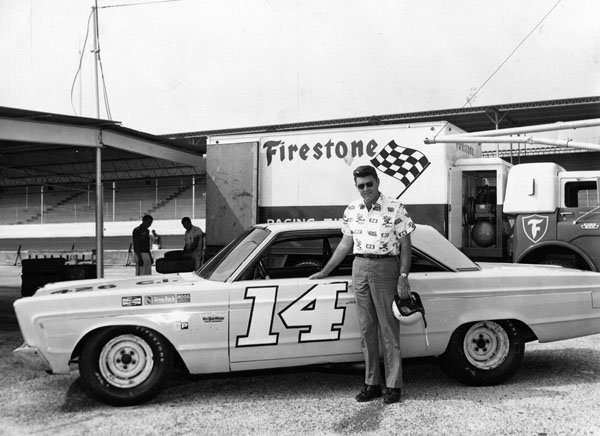 After that, Turner raced infrequently, coming out of retirement when the price was right. He had intended to come out for the National 500 but, on a foggy day in October, 1970, he crashed his Aero-Commander into a mountainside near Punxsutawney, Pennsylvania, shorty after take-off. Clarence King, a professional golfer, also perished in the accident.

He made and lost a number of fortunes during his life, in his career he took over 350 wins (not including unofficial races), including 17 Grand National wins and 38 NASCAR Convertible Division wins. He also won the 1962 Pike's Peak Hill Climb in Colorado and took a class win in the Nassau Trophy. In 1972 Bill France said that "Curtis Turner was the greatest race car driver I have ever seen."

historicracing.com

<